A lot of people on the internet think that a domain name is a mere address to a website. But in reality, it is much more than that.
If you have a good business and a fine website to showcase it, then a good domain name for your business can drive in more customers and visitors. Also, it will help in creating a positive and long-lasting impression on them.
Now, a domain name generally has a tremendous impact on brandibility, offline advertising, SEO, and social media. So if you pick up the right domain name for your website, then it can be the key to your site's success.
However, if you choose the wrong one, then that can cause difficulties in the journey of your website.
And that's why to help you choose the right and perfect domain name, here is a precise and detailed step by step guide for you.
1.

Pick the Right TLD/Extension

When we refer to a domain name, we usually indicate to the part between 'https://' or 'www' and the domain name extension, i.e. .com. Now, here is a visual representation of that.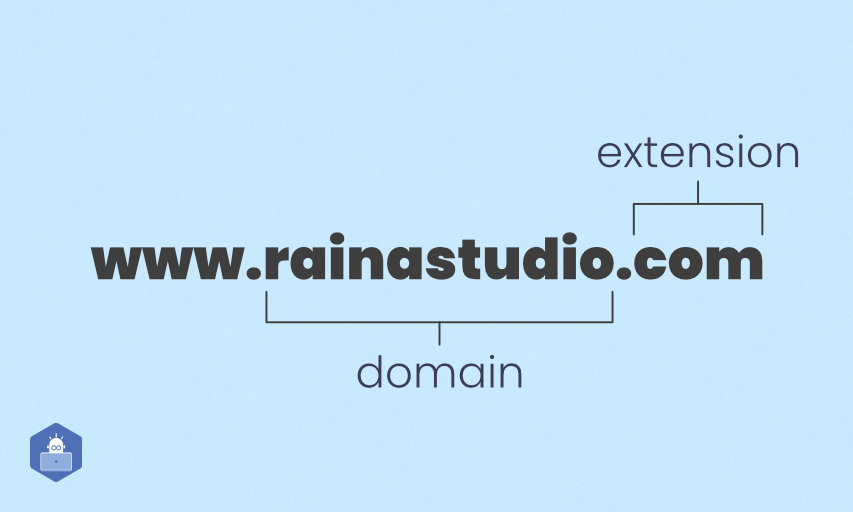 What we can see is – the portion "rainastudio" is the domain name. And the portion ".com" is the TLD or extension. Here TLD means Top Level Domain. For easy understanding, we will use "extension." throughout this article.
Now on choosing the right extension – there are hundreds of domain name extensions nowadays. And .com, .org, .net, .pizza, .xyz are few of the instances.

But we always recommend choosing .com as the domain name extension.
And there are numerous logical and significant reasons behind that.
Research conducted by DomainNameStat found that 43% of all the domain names on the internet use .com as their extension.
Now, why is that? Because the easiest and the most familiar domain name extension is .com. And that's why more and more people opt for .com.
Also, a study found that the .com domains are more trustworthy than any other unconventional domain name like .pizza, .club, .design.
Plus, the .com is more memorable and, people with less technical knowledge tend to type .com at the end of every single domain name without even thinking about it.
Even there are keyboards on the phone that offer a dedicated .com button. So people are more likely to accept and remember .com as the extension of any domain name.
Now, there is one more thing, the search engines. While submitting your website to the search engines to compete with other websites, a .com domain name extension then provides some extra advantages.
Although there are numerous successful websites without .com, still, it will be the safest and best decision to choose a .com extension.
However, if you find your desired domain name with .com as taken or unavailable, then try other domain names. And finally, if those are unavailable as well, then go for .net or .org. But avoid those catchy but weird looking extensions like .club, .party, .pizza.
2.

Scout Out the Perfect Domain Name

While choosing a domain name always remember to pick a brandable and creative name as they are better than the generic ones.

And keep in mind that your domain name is the address through which people will find you and your business. So, your domain name is the foundation of your brand on the web. That's why seek out something which remains in people's mind.

A brandable name is unique and that's why it can stand out from the competition. And a generic one is always stuffed with common keyphrase and that makes them unmemorable.

For example, how about these – carwash.com, or newcarwash.com. Do you see any difference and do you find any portion to remember?

No, I guess, because these are generic, common key phrases.

Now, how about, batheyourcar.com or Stellarcarwash.com. These are quite unique and catchy, although the last one contains a keyphrase.

If you're stuck and can't find any name then you try to create new abstract words like – google came from googol. Or you can use multiple meaningful words and join them together, or after joining them together cut some of its portions to coin a whole new word.

Also, you can use a thesaurus to find interesting words for your brand.
3.

Keep Your Domain Name Short

While choosing a domain name, you can add a key phrase to it. But remember, a significant catchy portion should be added to it. So the key phrase doesn't look like a generic one.

And while doing it, don't stuff big keywords in the domain name. Always try to use something smaller and shorter.

In the case of a domain name, the shorter or the smaller the better.

You can go up to 15 characters in a domain name. But remember, the longer the name is the harder it gets to remember it. So whatever you choose, only keep in mind to make it memorable.

People will often encounter typos while entering a large or long domain name. And if they encounter a typo, you'll lose visitors or possible customers.

So ultimately, whatever you choose, make it memorable and short.
4.

Ensure easy Spelling and Pronunciation

Your domain should be easy to spell and pronounce. Because easy spelling and pronunciation make a domain name easier to remember.

Think of the world's easiest domain names. You will find – Facebook, Instagram or Twitter, CNN, or maybe NYtimes, and so on. What's common in these domain names? They are all easy to spell and pronounce.

Your visitors or probable customers should be able to type your domain name without any hassle or problem. If the visitors or customers need the spelling twice to understand then it's quite complicated for them.

The only thing you can do is – ask 5-10 people about your domain name, see how they feel about it, do they face any problem while spelling it or pronouncing it? If Nah, if everything goes alright and people find it easy to remember then pick that one. Or, if people find it hard to remember, then you need to simplify it.
5.

Avoid Hyphens and Numbers

You can remember, from the beginning how we are focusing on the easiness of a domain name, how we are focusing on its easy spelling and pronunciation.

Now while you put a hyphen or a number into your domain name, then it gets more difficult to remember it, and of course quite hectic to spell it, as there are thousands of easy names. And among the crowds of those easy names, a name with a number or hyphen may go unnoticed.

How about Face-book, NY-Times, or Los-Angeles-times? With a hyphen, people often fall into the trap of forgetting it. And therefore, misspelled domain and wrong website.

So, the final thing is – your domain name should be smooth and easy, no hyphens or numbers should get in its way.
6.

Act Fast to Register It

Now, after settling on the right combination of the domain name and its extension, it's time to register it. That means now you need to buy the domain name.

The usual way people buy a domain name is through the hosting provider. You can check it out here to learn more about how to buy a domain name with hosting.

If you want to buy the domain name separately, then you can use this link to go to the HostGator domain registration page.

We are here referring to HostGator because it offers domain locking, easy management, domain renewal by default, and low cost for privacy protection. Although you can get the same features elsewhere, it may cost you a little more, but here at Hostgator, you're getting everything at an optimal price.

One more thing about HostGator, it's a renowned company for web hosting and domain name. Thousands of businesses and companies rely on HostGator for their Hosting and domain registration service. That's why we have chosen this one over thousands of other registry companies.