Hey, I know you have heard of so many funnel builders – and somehow got curious about WooFunnels.
Now to respond to your curiosity and satisfy it, I've designed a detailed tour.
Where, I'll ride you through WooFunnels' features, pricing, issues, worthiness, uniqueness, its standing against competitors, and so many other aspects.
So, welcome aboard. Hopefully, at the end of the tour, you'll have a total grasp of it, and easily you can decide whether to pick it or not.
Enjoy.
Conclusion Upfront
Price: Free, $179/year, and $999 for a lifetime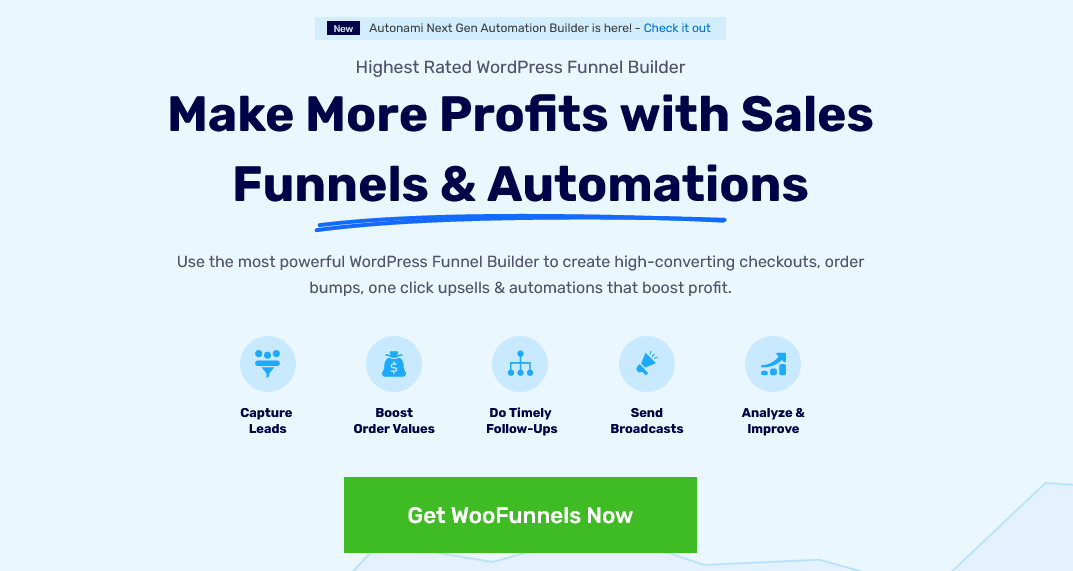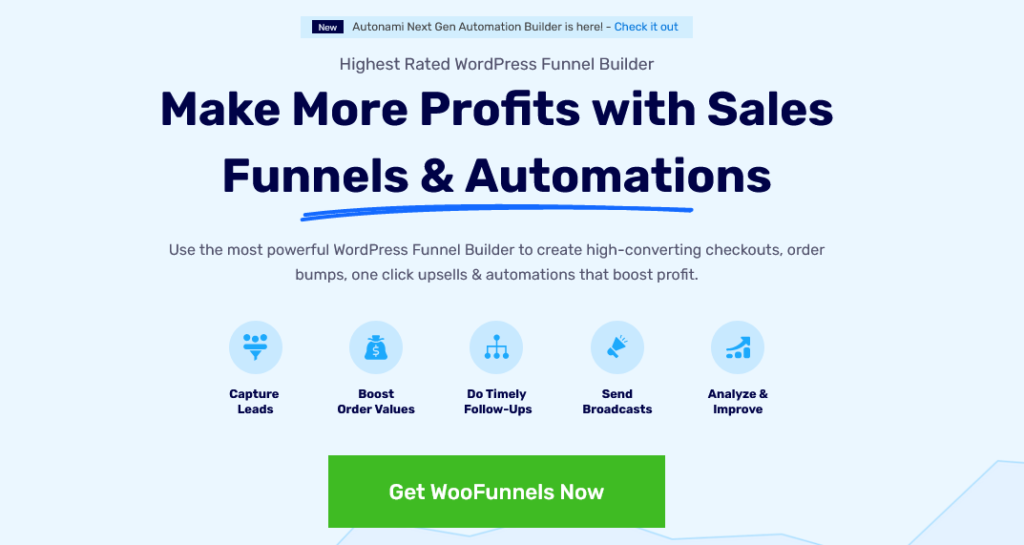 WooFunnels is the newest arrival in the top-notch funnel builders category. It is almost similar to its fiercest competitor Cartflows, in terms of features except for some differences.
WooFunnels offers the simplest way to create and design high-converting sales funnels. With just a few clicks, you can land a mesmerizing landing, checkout, and thank you page.
Besides, you'll have access to all the relevant features like upsells, downsells, and order bumps. In terms of customization – you can customize it to the fullest.

Almost every step of it is customizable. Overall – you can create beautiful-looking, conversion-optimized funnels quite easily.
What makes it stand out is its additional offering – Autonamy.
It is a CRM for WordPress. It integrates WP and Woofunnels with it.
You can manage all your customer relationships, handle leads, create different types of campaigns, and so on here. Also, you can integrate a variety of third-party plugins with it.
Pros:
You can create multiple upsells, downsells, and order bumps to boost your sales.
Offers beautiful sales funnel and templates with one-click import features
Page Builder Integration. (Elementor, Divi, Gutenberg, and Oxygen)
Built-in Automation Engine along with CRM
Has split testing, SMS and email broadcast features
Autonamy has built-in SMS marketing, Audience Segmentation, and personalized marketing campaign creation features.
Can integrate with lots of third-party plugins
Cons:
It doesn't have built-in affiliate and membership program features.
Kinda Costy when compared to others
You can't access certain features like integration with third-party apps just solely with
Review: Key Features
This now popular plugin has plenty of features and options to offer. Among those, we have selected the key ones that are essential or are the heart to funnel building.
So, let's look at them.
1. Funnels and Pages
The funnel creation process in this plugin is pretty easy. With just a couple of clicks, your funnel is ready to deploy.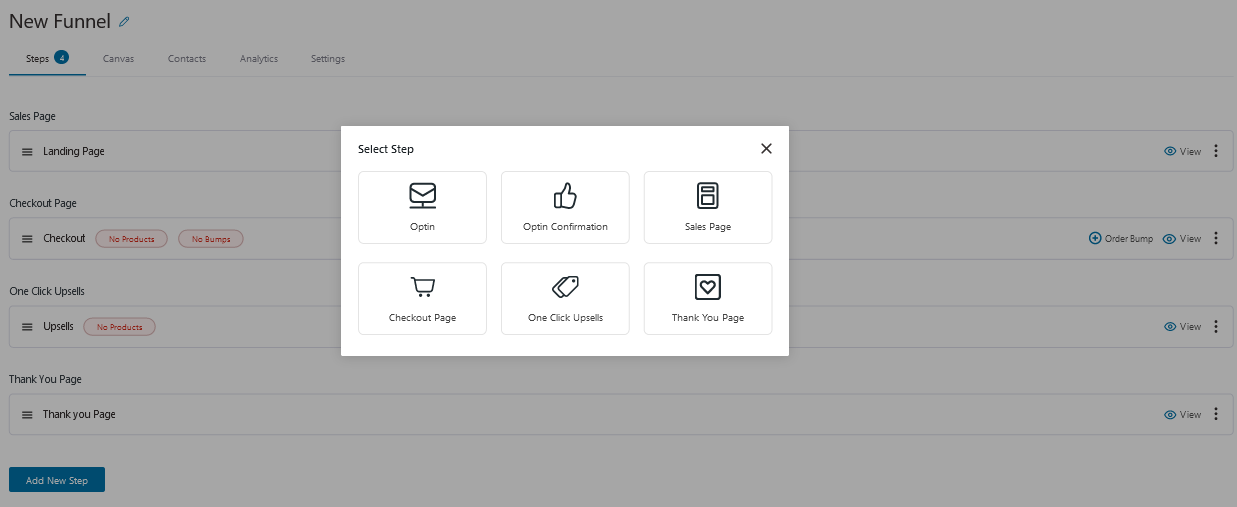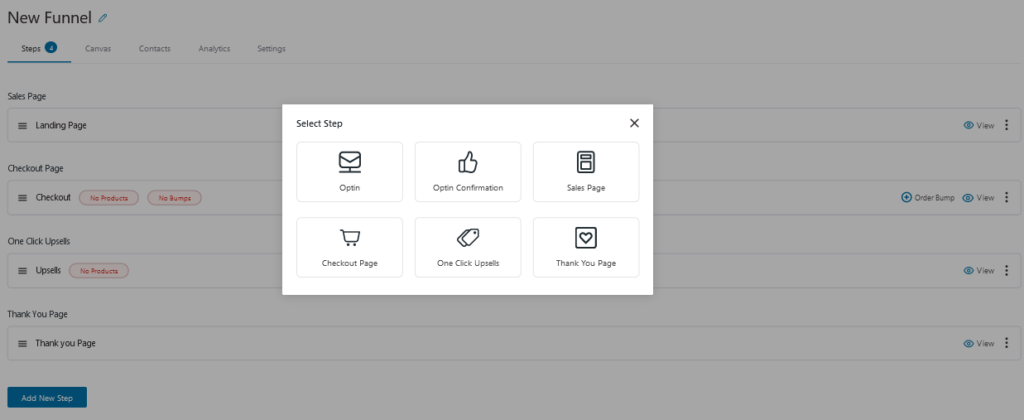 If you want, you can build your landing, upsells, downsells, order bumps, checkout, and thank you page by yourself. You can use any supported page builders to create your custom Sales Funnel.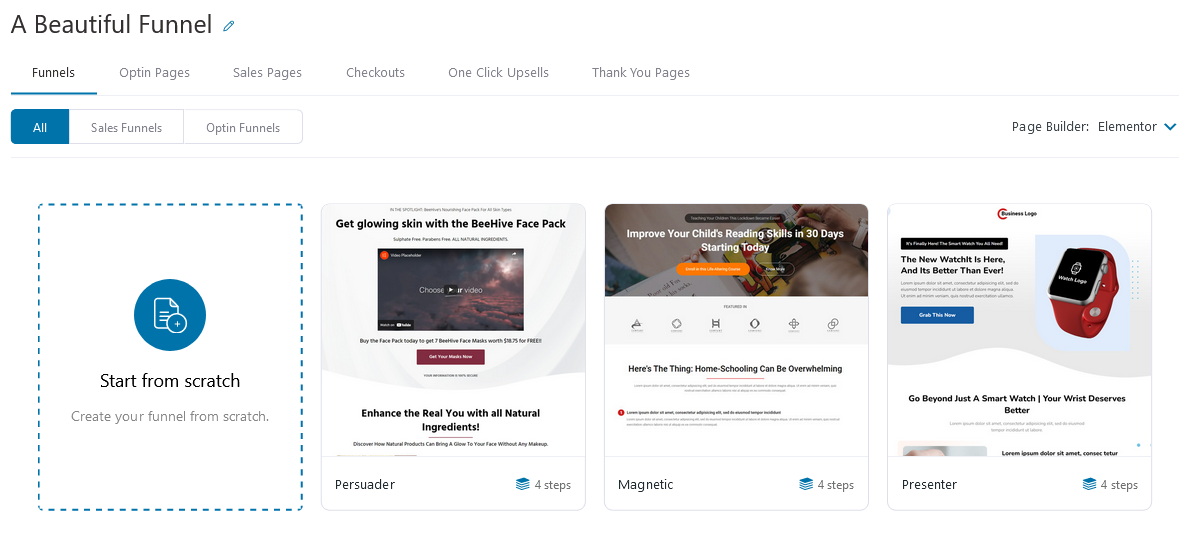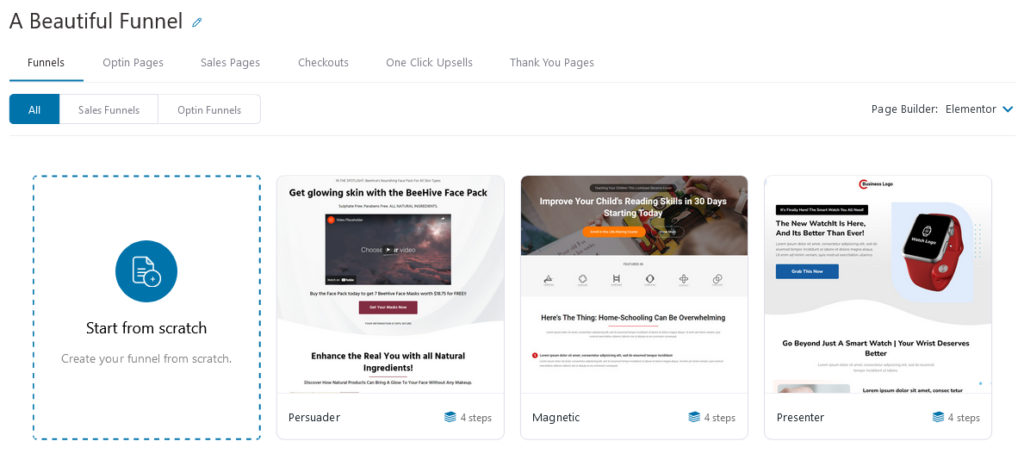 But, if you don't prefer the hassles of creating everything from scratch, it's always better to go for the templates. You simply choose your desired type of template, hit import, and it is ready.
After preparing all the templates, you'll find options to customize and beautify each step.
Each funnel features its own dedicated analytics and lead (contacts) feed. So, it's again only a click away from all the funnel insights.
2. Templates
Not everyone talks about templates. But these things are essential. Templates are the fastest way to build a beautiful, customized and conversion-optimized sales funnel.
And fortunately, WooFunnels offers quite a lot of high-quality templates. The templates range from different types of sales funnels, checkout, upsell and thank you pages.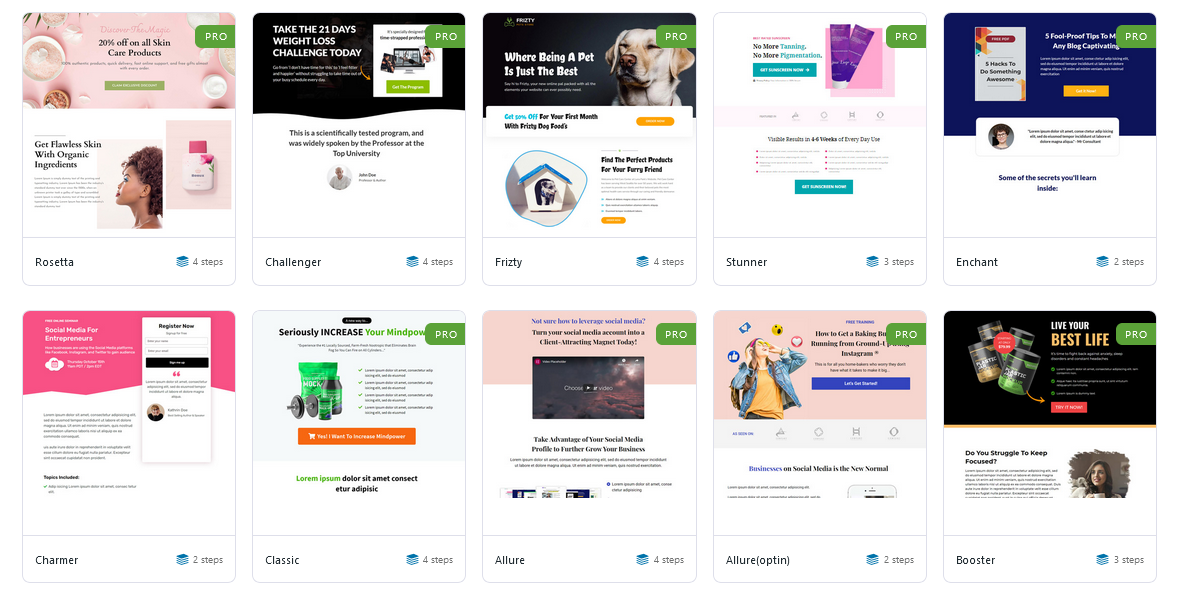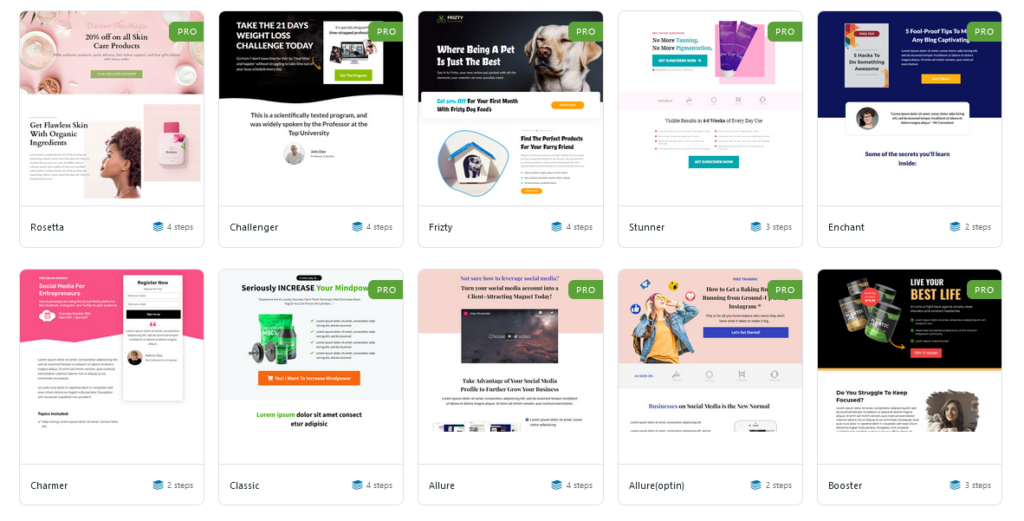 Each template comes with a myriad of options and customization features. So however you're planning to build your funnel, a little search through the template list will yield what you need.
Also, if you don't find what you want, you can combine different elements of multiple templates in one. And there is always the door open for your custom addition.
By the way, you can replace the bad old 😛 Woocommerce's checkout with WooFunnel's templates.
3. Order Bumps
These are the profit-boosting elements while you're trying to sell only one product.
If you know how to place the right product in the right place, then surely, you can balloon your profit. WooFunnels offers you the right place. Now, it's your "duty" to pick the right product.


Woofunnels allows you to set up dynamic products based on cart items on the bump. Then lets you have a rule-based bump from their 17+ rules for the product.
Next, it offers you different pre-made skins for them. You can choose one, and customize it to your desire.
So, again – creating bumps here in WooFunnel is also a thing of a couple of clicks.
4. One-Click Upsell and Downsell
Again, similar to the Order Bump – Woofunnels offer an appropriate placement for another relevant product at the end of a sale.


You can create an upsell or downsell offer via this plugin.
It will then appropriately show up on the checkout page after checking out. If the customer clicks only once, it directly leads him to the thank you page. The product en route gets added to the customer's basket.
The Upsell or Downsell feature is highly customizable. You can add one offer and configure it. Then it's ready to roll.
The best part about WooFunnel's upsell feature is – its quickest and simplest way of setting up such an amazing feature.
5. Checkout
As you know, the default WooCommerce Checkout is trash. So, to your savior – Woofunnels' highly customizable checkout system.
It offers several high-quality checkout templates. You can either opt for them or, you can create a custom one.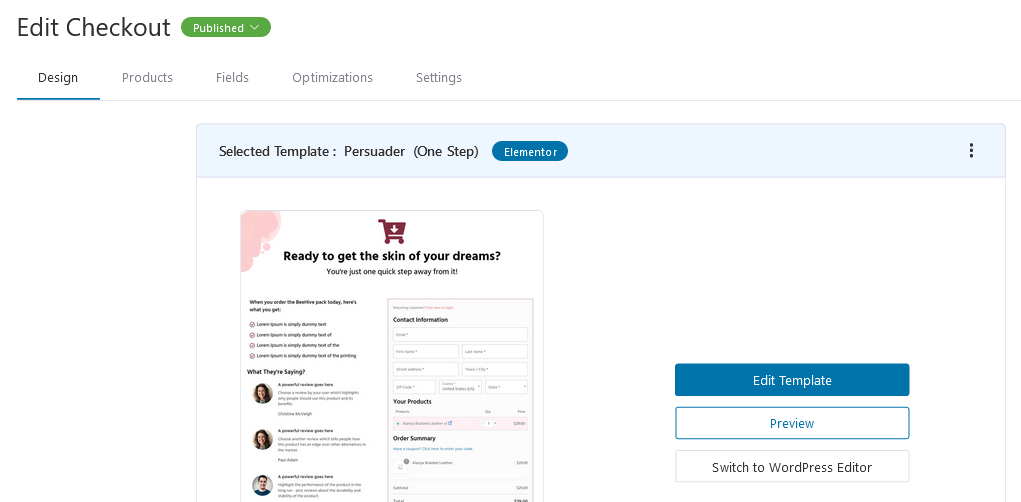 Let's say you want to have an express pay system or a Shopify-style layout.
Now, to implement this into your funnel, again, you only need to press a couple of strokes on your mouse.
Using the templates or by creating yourself, you can have 2 step order form, a one-step order form, express checkout, or whatever.
Also, to reduce cart abandonment to the minimum, you can use additional checkout customization options.
Options like – fields, optimizations, and settings on the checkout customization page allow you to adjust and beautify according to customers' and brand's needs.
Review: Autonamy – The Automation Engine
WooFunnels funnel builder normally comes as a one-man package.
Now, the team behind it wanted to integrate this highly capable funnel builder into their powerful automation engine and CRM, so it can drive more growth.
Now, they started to offer both as one package. But still, if you want, you can get them separately.
However, as plugging Autonamy takes Funneling to a whole new level, I've decided to introduce it to you.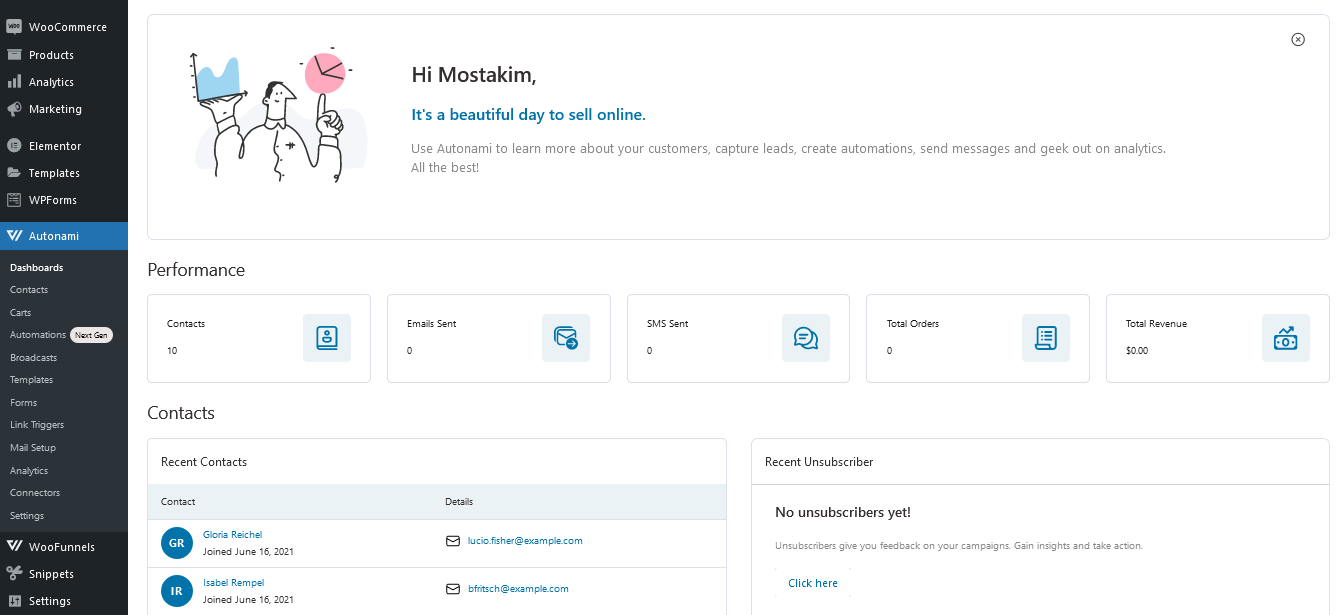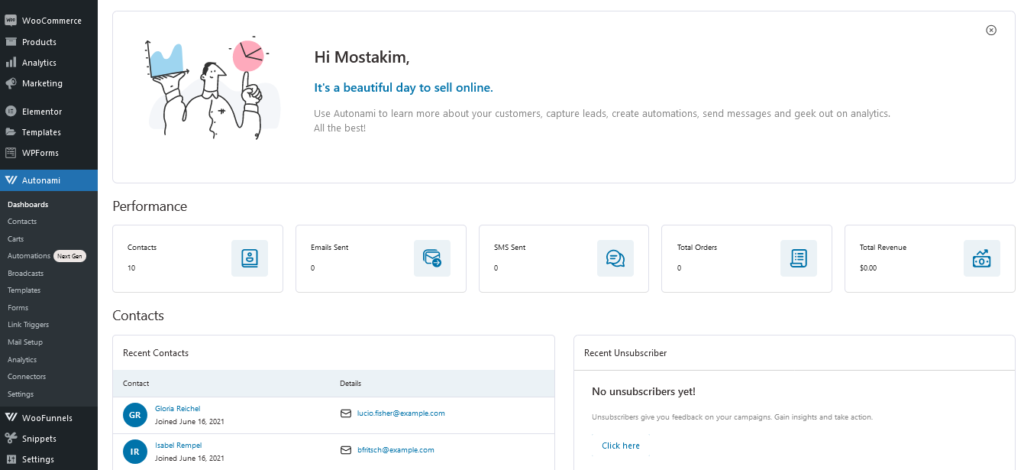 You won't find too many CRMs (Customer Relationship Management) system for WP that offers an all-in-one solution, literally all-in-one.
And one of those handful few systems is this Autonamy. It primarily has four pillars. And each of the pillars offers a wide range of functionality.
a) Lightweight but Powerful CRM
Typical CRMs offer just a handful few insights while Autonamy offers meaningful insights that reflect their buying behavior.
You can view via its rich contact profiles all the customers' detailed personal info, items they bought, their lifetime spending, and so on.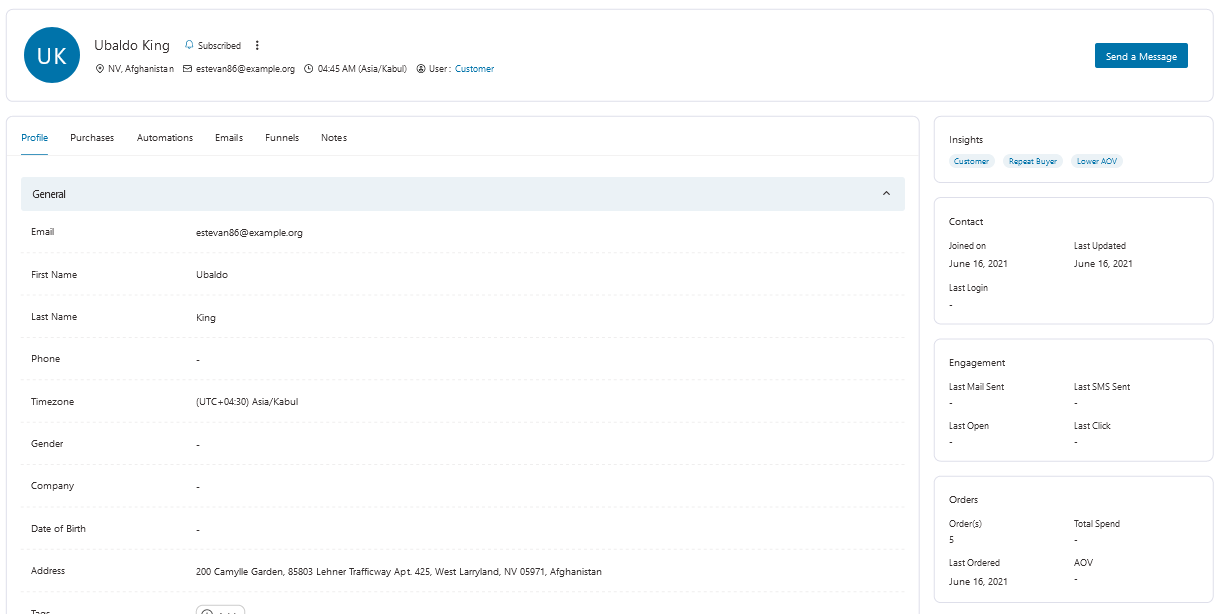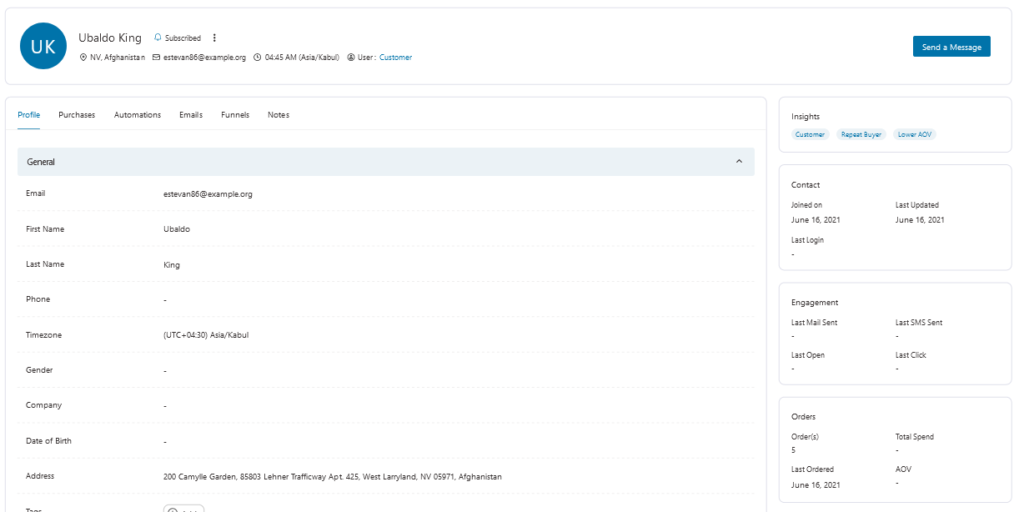 Once you have all those data, Autonamy segments them by tags, lists, or other custom input.
Then you can target your segmented list of customers to run SMS or Email campaigns.
This plugin has Zapier-like feature that integrates with almost any top-notch SMS and mail providers.
b) Automated Follow-Ups
Under automated follow-ups, if you apply properly, you can retain more customers by launching an automated or self-triggered email or SMS campaign.
Autonamy's automated follow-up system includes – well-timed abandoned cart email, time-bound coupon codes, shipment tracking notifications, post-purchase education, review email, win-back campaigns, and many more.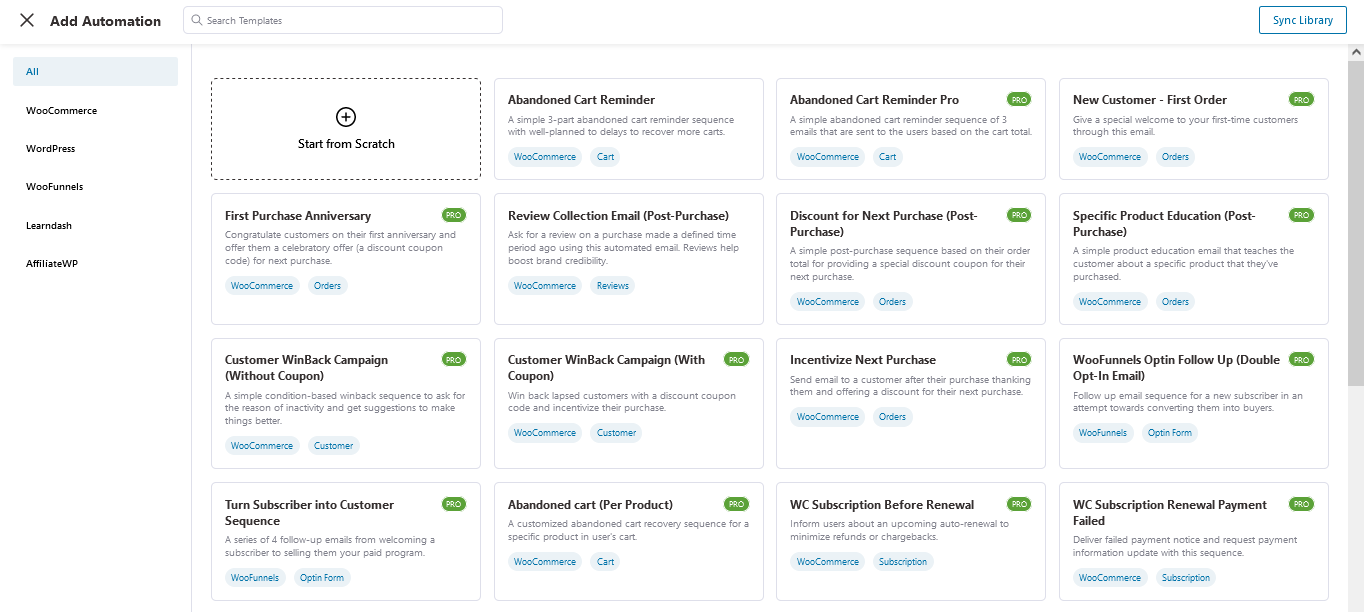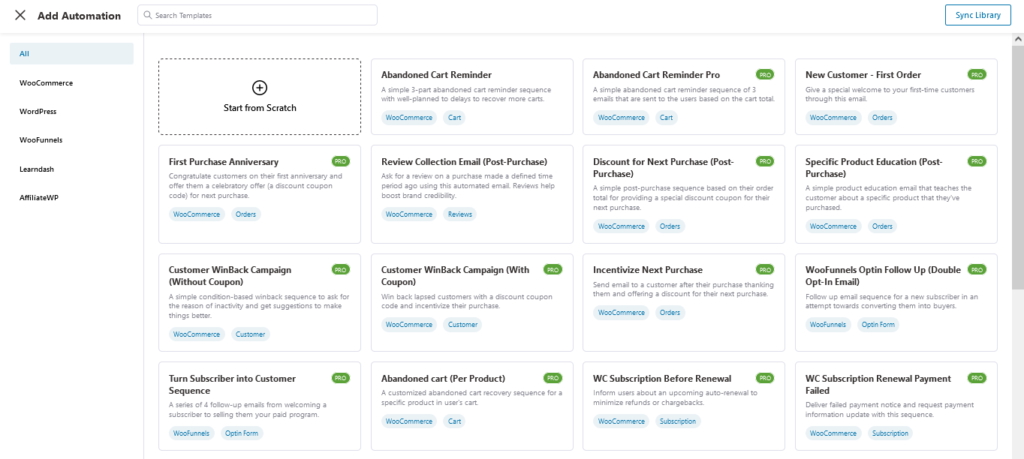 c) Smart Workflows
Just like Zapier, you can connect two different WordPress plugins from two different universes together. And without any code.
Once connected, you can trigger one action in one plugin to start another action in another one or more plugins.
For example – One user submits info via forms. It then triggers WooCommerce to create a coupon code. Then the CRM sends an email with that coupon to that user.
If this user for some reason, cancels his subscription, you'll get an automated notification on your slack.
d) Integration
It can integrate with over forty (40+) plugins and applications.
Whether it's a WPForms form, WoCommerce platform, course platform like LearnDash, CRMs like Mailchimp, Mailerlite, or communication platforms like Twilio, Slack, Google Sheets, or Zapier – it can seamlessly integrate with anything.*
Glimpse: Additional Features
WooFunnels' features are not limited to the key features mentioned above. Rather, it has a myriad of additional essential features. Among those, let's see just a couple of relevant and important ones.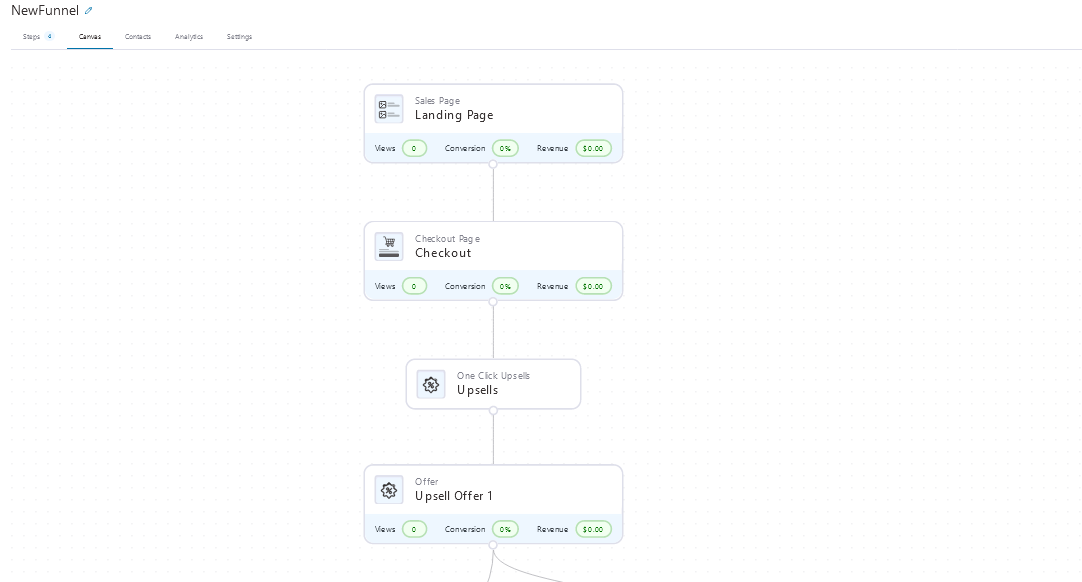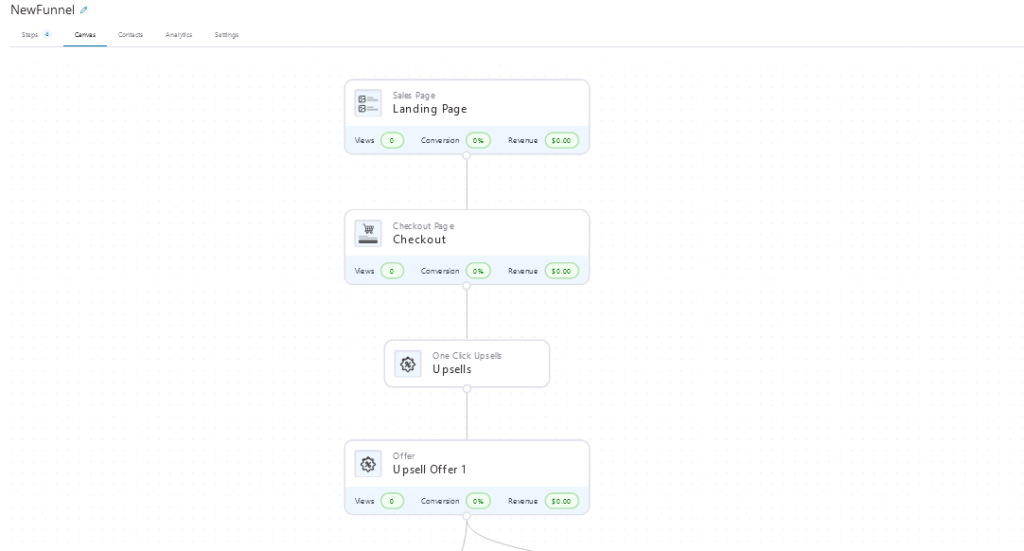 Split Testing: Split testing allows you to create two different variants of the same funnel component.

For Ex. the Checkout page. And it allows you to direct traffic equally to both variants.

This way, you can check which variant performs better and eventually opt for it.


Canvas Mode: To build funnels, WooFunnel has a step builder. But to make the experience more appealing and comfortable, they've added Canvas mode.

Here you can visualize all your steps in an organized way. Also, you can visualize the performance parameters.


Reporting and Analytics: You'll normally get detailed report and analytics on your traffics on your funnels, products, your sales, and so on.

Besides, you can add Google, Facebook, Pinterest, Snapchat, and Tiktok trackers to it as well.

WooFunnels Free or Paid?
Free: Is it enough?
WooFunnels offer "only" simple funnel building without any upsell or order bumps or any other feature we've discussed above.
Also, without any premium templates for the landing page and checkout page and without analytics, reporting, and higher customization features. 
You can only create a Sales page, Optin, checkout, and thank you page. You can only customize the pages.
Now, considering this, a person who plans to run a full-fledged funnel may find the free version as limited. So, to me, it's not enough.
Paid: Is it worth it?
Funnel Building key features, additional features that we have discussed above – are enough for any funnel builders to create and run professional-level funnels.
Also, for more advanced users, Autonamy covers the rest of their needs by packing all the key marketing tools and features in one place. Which is rare in other funnel-building plugins. 
So, if we are thinking of WooFunnel as a mere funnel builder without Autonamy, it's like Cartflows – one of the best funnel builders for WP.
But with Autonamy, it's more than Cartflows. So, yes, the paid version is worth it. Although the price it asks is certainly a little higher.
To Conclude
Maybe the price is higher for most of the funnelers(marketers). But is it really?
Considering an advanced funnel building tool + an advanced marketing automation tool + the value it can possibly generate if used right, I personally think the price is a little okayish.
Yes, I admit – there is a little higher price vibe to it, but still. 
So, what do you think? Is it the right one, or should we look into something else?