Are you planning to build funnels? But don't wanna leave good old – WordPress? Alright.
There are solutions for it. Even interestingly – WordPress has reached so far as to exceed the so-called kings of funnels – Clikfunnels and Kartra.
And it is made possible by some outstanding plugins. However, to build sophisticated funnels with merely one plugin to increase efficiency and reduce extra loads and vulnerability – you will only find a couple of complete options.
One of those completes is Cartflows – by the creator of the Astra theme. And we have handpicked it. Why? Because it is comparatively feature-rich and pretty easy to learn, use and implement.
Now, should you opt for it? Or not? Let's check that in detail.
Conclusion Upfront
Price: Free or $239/year, or there's a lifetime plan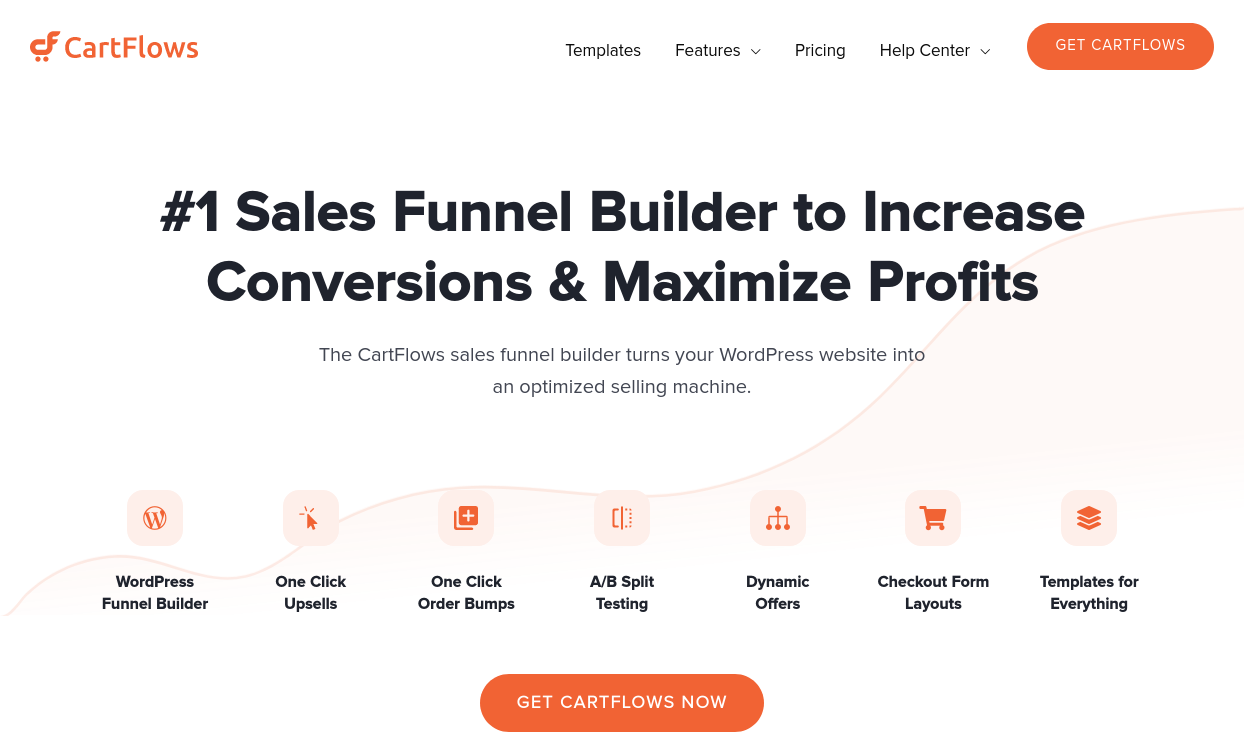 Cartflows is an incredible plugin that allows you to create high-quality sales funnel pages on your WP site. And the good news is – with Cartflows, you don't need to worry about a high-level skillset or knowledge. It's that easy!
In terms of features and stuff, it is again excellent. It comes with all sorts of feature packs that one possibly can look for while building a funnel.
Still, if you're hesitating, LISTEN: Over 231,932 websites opted for Cartflows. And, 'these lot people' can't 100% be wrong. Right?

Pros:
'Real High-Quality' ready-made sales funnel pages
You can add multiple upsells, donwsells
Also, multiple order bumps and order bumps based on customer's previous purchase
You can connect Google Analytics and Facebook pixel with it
It can replace the default WooCommerce checkout with a custom conversion-optimized checkout page
You can use any custom scripts in it
Offers multiple payment gateways
Cart abandonment recovery
A/B Split Testing
Customers can even add additional offers even after completion of the checkout process
Cons:
You can't share your funnels
Review: Features that Stand Out
Cartflows comes with powerful essential funnel building and some additional features. Whether it's a sales or a lead generation funnel, you can create whatever you want.
Although you can create numerous types of funnels with Cartflows, just to give you an idea, here are some of the popular kinds: Service, free product or consultation funnel, lead generation funnel, webinar list funnel, product launch funnel, online demo funnel, client application funnel and many more.
1. Pages and Flows
Cartflows names its funnels -flows. Generally, by default, it provides five flow steps to create funnels.


First, Landing Page > Checkout Page > UpSell Page > Downsell Page > Thank You Page.
However, apart from these, you can have multiple landing pages, numerous upsell or downsell steps, and other related pages. Even if you want, you can avoid the default and fully create your own funnel or flow structure from scratch. Additionally, you can heavily customize and beautify each step according to your needs.
The system to build, manage and control the funnels – is designed to give you the ease of use, speed, and comfort. So with Cartflows, funnel building is just as easy as building a page in WordPress.
2. Templates
Cartflows offers astoundingly modern, appealing, and responsive pre-built templates – that you can import with just one click to create fast-cool flows/funnels.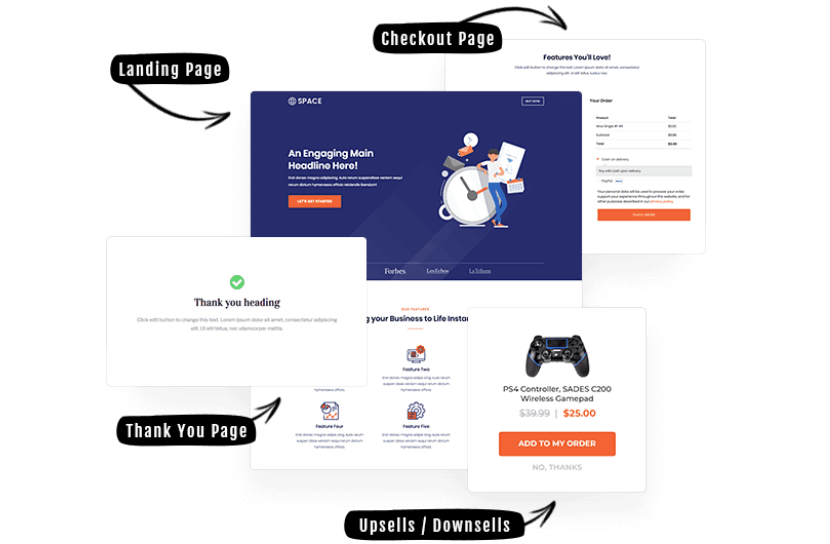 After its successful import, you can customize all of it without even a single line of code. And the most crucial part – you can use any of your favorite page builders to customize any of those templates, as Cartflows support almost all the popular page builders.
Now speaking of the templates: you can find use-case-specific templates combined with upsells, downsells, checkout, offers, and everything. Whether you are looking to sell ebooks, consultations, or courses, Cartflows got you covered.
Remind you – the templates are, of course, professional, appealing, and also, conversion-optimized.
3. Checkout Custom Fields
Cartflows allows you to add custom fields on the checkout page. It also, lets you replace the conventional WooCommerce checkout page.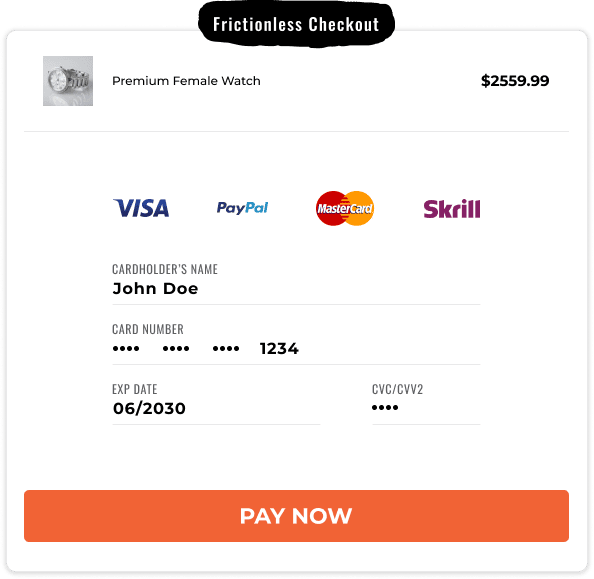 However, it's not essential for many. But, I personally think those who are looking deeper into the funnel builders, certainly, a lot of them will be glad to have such a feature.
Generally, when you want to add, let's say, an option to subscribe to your newsletter or want to change, modify and beautify existing checkout fields, you need to install a whole separate plugin. Same, when you want to replace the clunky old WooCommerce checkout fields with something more appealing and sophisticated.
Now installing a plugin is a hassle and sometimes can cost you bulks. But, when you're getting all these features embedded with Cartflows, you can seamlessly add, replace, sync, connect, modify and customize whatever fields you want on the checkout page without losing extra.
4. Easy Order Bumps, Upsells, Downsells
An order bump – offering related products/services at a discounted price on the checkout page is something people building funnels want to add.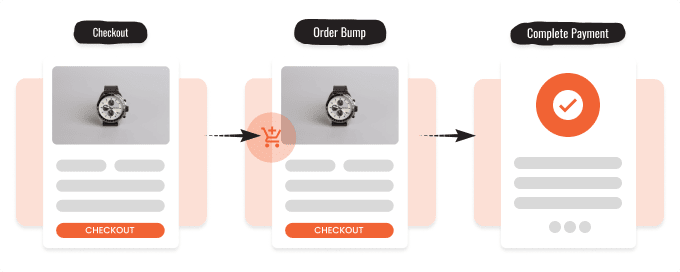 Cartflows' order bump feature lets you add it to different locations. You can add the bump after billing details, order, or even before or after checkout.
You can easily add text, images, outlines, and other formatting elements and customize them to build your brand-matched bump.
Now, Upsells and downsells are some outstanding ways to increase customer engagement and transaction value.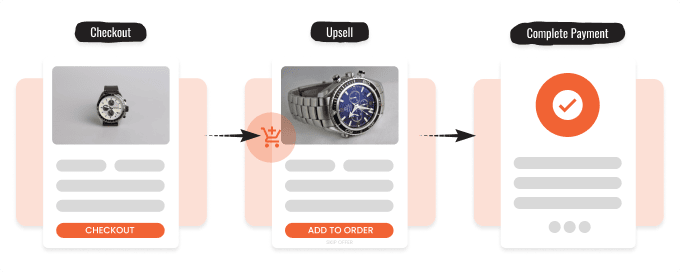 Fortunately, Cartflows offers professional-looking templates for upsell and downsell pages. However, you can design your own pages as well.
You can use them to sell one-time offers, large quantities of products, tripwire offers, and many more.
5. Cart Abandonment Recovery
A lot of us are familiar with the abandoned cart. When a user drops off the checkout page, you lose revenue. However, if you remind them of it, there's a good chance they'll come back.
Generally, Cartflows replacement of the default complicated checkout process with its optimized one decreases cart abandonment. Cartflows removes all unessential, disturbing fields and leaves the customer only with what's needed.
But still, if somehow a customer slips away from the checkout page, their info is directed to your CRM. Then the system triggers an email to the user with all the necessary information to persuade him back.
6. Integration
Cartflows can integrate with several plugins to maximize your overall site and funnel efficiency.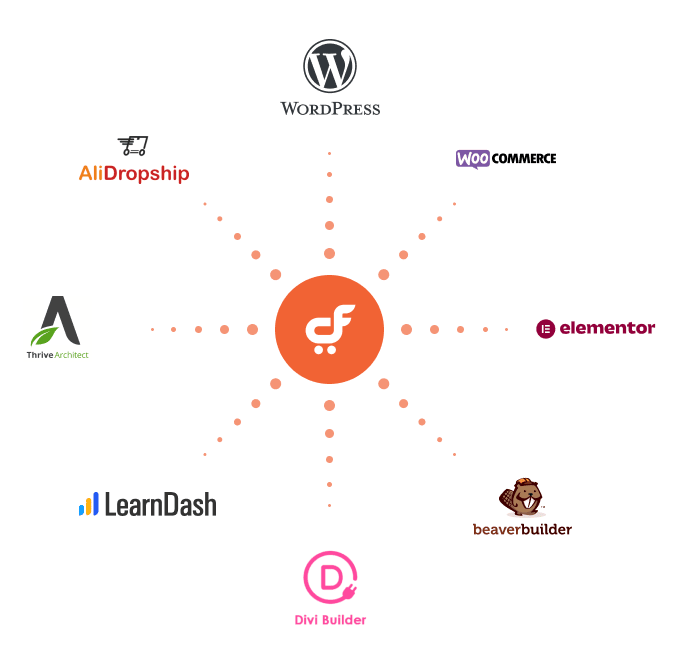 It integrates with popular page builders – Divi, Beaver, Thrive Architect, and, Elementor. So, whatever page builder you have right now may easily fit in with Cartflows.
This plugin is built with WooCommerce in its foundation. That's why it integrates with all WooCommerce plugins and tools. Likewise, you can use WooCommerce-supported payment gateways, including Auth.net, iDeal, PayPal, Stripe, and many more.
Those of you who are course creators can use Cartflows to integrate with the education plugin LearnDash. This way, you'll have more features and flexibility to create funnels for your course.
Cartflows Free or Paid?
Free: Is it enough?
The free version of Cartflows comes with decent features that allow you to create a simple sales funnel. If you need a funnel simply with a sales pitch, checkout, and thank you page, then the free version will be enough.
The free version also offers lead capture, a couple of high-quality ready-made templates, and cart abandonment recovery. Besides, it offers integration: analytics integration and plugin integration.
You can integrate Google Analytics and Facebook Analytics with your Cartflows' free version. Also, you can integrate numerous available plugins with it.
Now, if you feel these features are enough for the funnels you're planning to build, then yes, the free version is more than enough for you.
Paid: Is it worth it?
Features like order bumps, one-click upsells, downsells, one-column checkout, split testing, customizing fields, checkout takeover, and much more high-quality page templates are only available in the Pro version.
So, if you need access to more templates than the free version for the Landing page, checkout page, thank you page, upsell, downsell, then yes. You can go for the pro version.
The thing is, initially, if you're new to selling, the Free version is enough. But, if you run a shop or have an agency or have multitudes of products, then the pro features will provide you full solutions for a whole lot of things. Let's say from marketing to sales.
So, it's pretty hard to come by a plugin that packs a lot of essential things in one place. That's why – why waste money and clamp your site with a lot of plugins while you can get them all in one?
Finally, compared to its alternative and considering all its rich features, the price is significantly lower.
To Conclude
Investing is necessary to boost profit and scale up the business. Considering Cartflows' conversion power, landing page, and checkout experience, maybe it's worth investing or maybe it's not (if you're using the free version). What do you think?