In a nonstop hustle event organized by a freelancer group, we have talked about finding clients outside of freelance marketplaces.
I have real-world experience in getting clients for freelance projects on Linkedin. And I shared how to get clients for freelance projects in Linkedin on that event.
In this post, we are going to show you step by step of finding clients from Linkedin. It's introducing yourself to prospects. What we are waiting for, let's start!
How to Get Clients for Freelance Projects
To find clients on Linkedin, we will be needed to use an email marketing automation tool like MailChimp. In other words, we can say this is a post of step by step process of email outreaching.
Export Your Linkedin Connection Data
In the above, we have talked about finding clients from Linkedin. And now, in this step, we will export Linkedin connection data.
To do that, login into your Linkedin account. Go to My Network >> See All >> Manage synced and imported contacts >> Export contacts. See the following gallery slider for reference.
As sooner as the CSV connection file got ready, you'll get an option to download it. In that file, you'll see six columns of FRIST & LAST NAME, EMAIL ADDRESS, COMPANY, POSITION, and CONNECTED ON.
It was my EID day when I saw the information the first time. Linkedin says, "You're the BOSS of your account," and they mean it. You get the MILLION dollar information, right. Let's use it to get high paying clients.
Create a MailChimp Account and Setup Campaign
Get started with a FREE account on MailChimp. If you have an account already, sign in to that. Go to List from the main navigation area and create a list.

Fill out all the information and hit the Save button for the next step. In the next level, you'll see the window like the following screenshot. Click on Add contacts and select Import Contacts.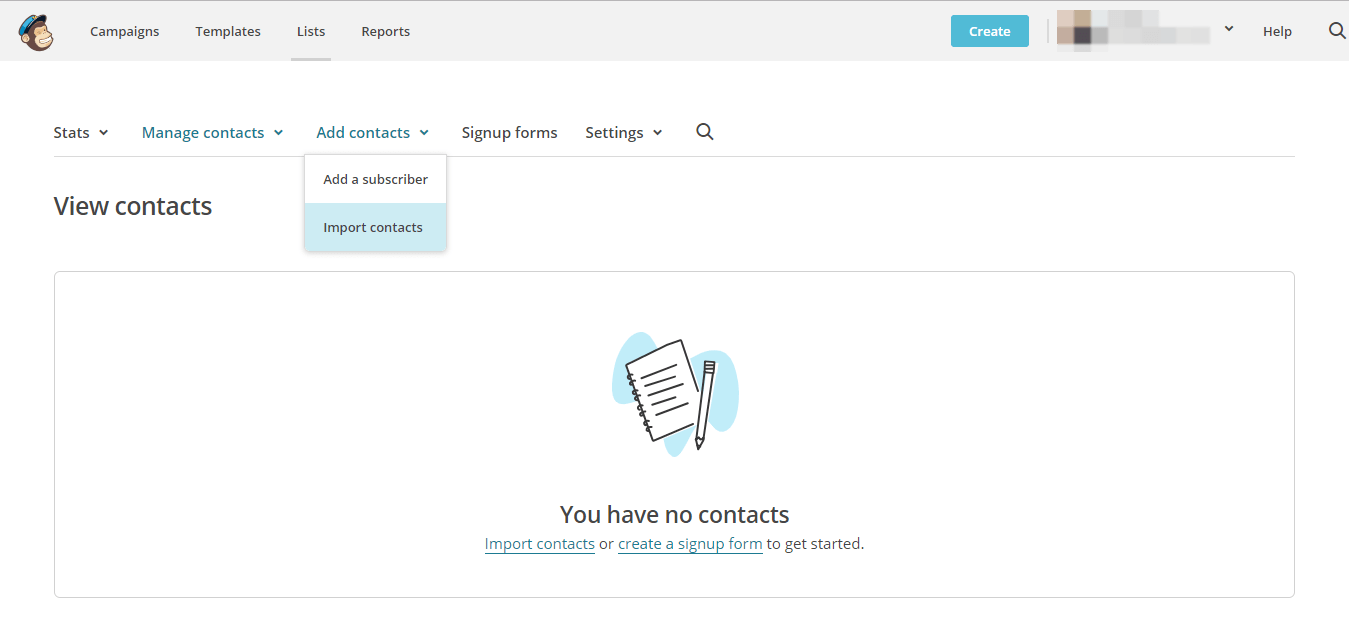 On the next window, select CSV or tab-delimited text file and click on Next. Browse and upload the file which one you exported from Linkedin.
Select columns you want to keep and drop the others. Hit the Next button, and within moments, all information will be added to your list.
On this next step, we are going to create a campaign for this list. Go to Campaigns from the main navigation area and click on Create Campaign.
A popup window will come up where you'll be needed to select Create an email, and on the next window, type your campaign name and hit Begin button. Check the following screenshots for reference.
On the next window, you'll get a form where we need to add recipients, from, subject and content. On Add Recipients section, select the list you created, check to Personalize the "To" field, and select *|FNAME|* from Merge tag and Save.
On the From section, type your name and email address where you want to receive replies from recipients.
In the Subject section, type a popular subject and preview text. The item should be catchy and short, for example, "Good Day! Get your website done under 300$". It's more specific and concise.
Now the time to write an email pitch. In the Content section, hit Design Email. You'll be redirected to a content builder page from where select Simple Text and edit OR write your email content. Here is an example.
Hi *|FNAME|*,

I am xyz, founder of example.com where I design and develop authority looking website using the latest technology(HTML5, CSS3, PHP7, Bootstrap 4+) for the lean entrepreneur like you.

I hope you don't mind me reaching out to you. I came across your professional profile on Linkedin.com. I just wanted to help you with a new or existing website.

I've done a lot of projects for my past clients. Feel free to check out some of my work.

https://example.com/portfolio/ref-pei/ design and developed for abc.com
https://example.com/portfolio/kdioe-urj/ design and developed for cdb.com
https://example.com/portfolio/roekn-yrj/ design and developed for ncd.hr
https://example.com/portfolio/sole-uej/ design and developed for frec.com
https://example.com/portfolio/keol-kwoe/ developed for gedf.com

Have you ever considered designing a conversion focused website for your business?

Let me know and we can talk more or maybe can schedule a Skype meeting.

Have a great day!
When you have done writing an email pitch, hit Save & Close button. Next, you can schedule the campaign OR click on the Send button, within moments Mailchimp will send your mail to all of the recipients.
Wrap Up
We have reached the end of this post. Using this method, you can enlarge the network and introduce yourself more casually. If you need any help or have a question, reply using the form below.
Rock on! Keep pushing yourself forward to win more. Have a great day! 🙂
you will love the following articles: