Perhaps, you've already built your WordPress website to make your dreams come true. But, have you ever thought about the security of your website? Or have you taken any action to keep safe your website?
If the answer is no, then your site is still in danger because the site could be hacked or damaged at any moment. However, there is nothing to say that WordPress's built-in security is good enough, but like any other system.
It also could be vulnerable for different reasons like having the suspicious code, script, or malware inside your theme or plugins.
Best WordPress Security Plugins to Secure Website in 2020
So, the ultimate solution to keep your website safe and secure is implementing an additional security layer. Using a quality security plugin, you can easily do that.
And, that's why we have listed the seven best WordPress security plugins here for you. So you can pick the right one to ensure the maximum security to defend your Website's firewall without any hassle.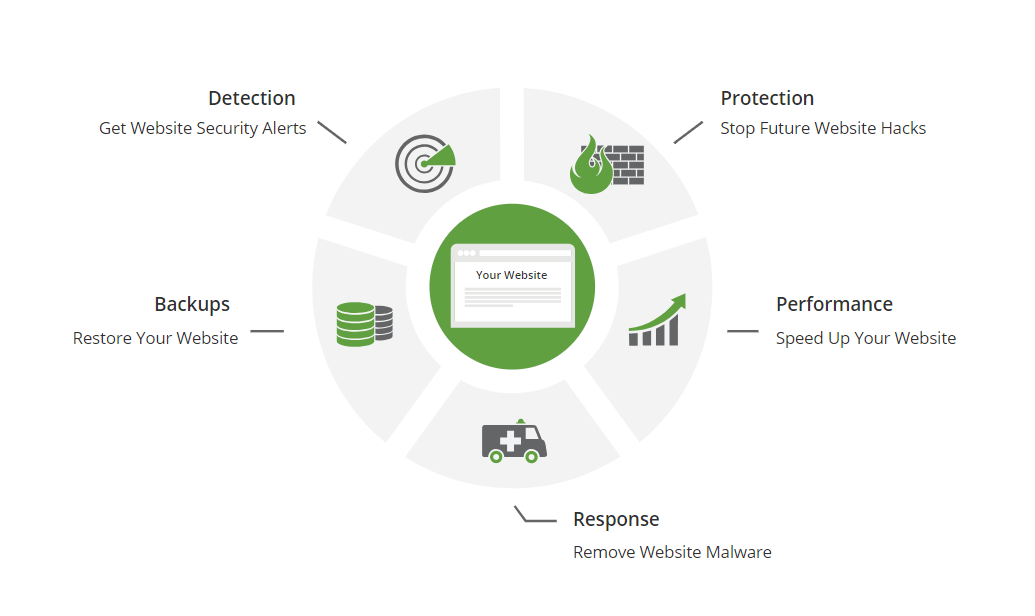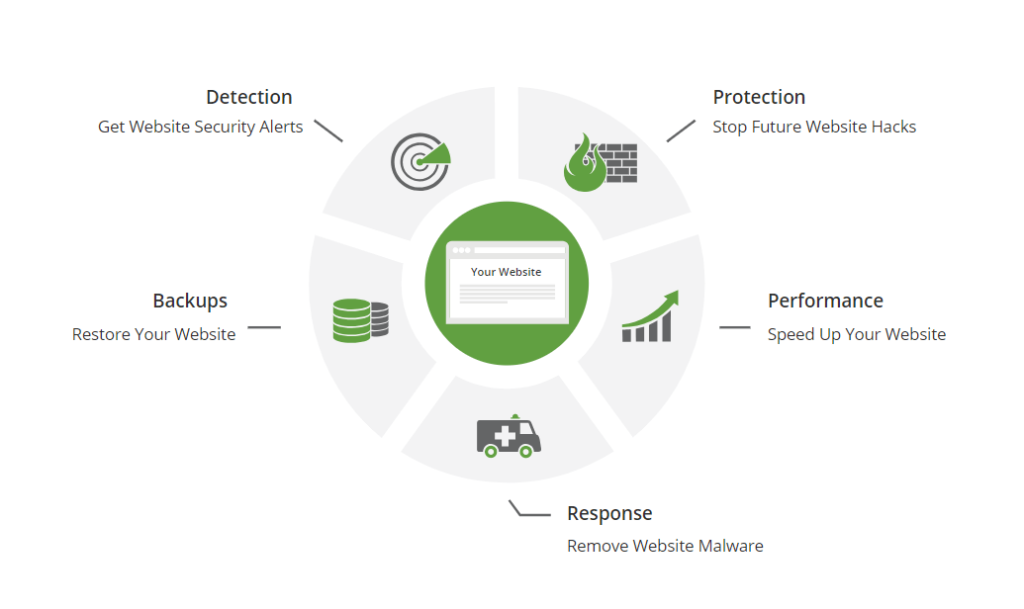 For keeping your websites wholly safe and secure, our first choice is the Sucuri – the world-famous worry-free website security platform.
Its powerful WordPress security plugin will help you to protect your website from malware and hacks using its multi-layers safeguard. Best of all, it has an always updated cloud-proxy firewall system that bypasses all your incoming traffic before sending it to the site's hosting server.
So, you'll get only real visitors to your website extracting all malware attacks or hacker's attempts. Here are the stunning features of the Sucuri WordPress security plugin:

Super easy to deploy and use
Instant security alerts
Malware removal & protection for future website hacks
Easy backup and restore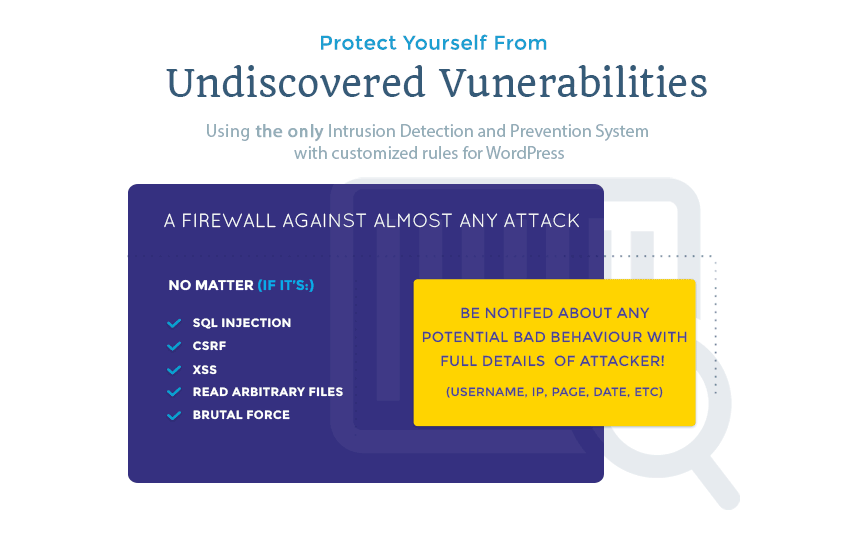 Hide My WP is a fantastic WordPress security plugin that mainly developed for the websites that are built-in WordPress CMS.
It is a competent security plugin that helps you protect your online assets from undiscovered vulnerabilities. It also enables you to hide any file.
Moreover, it's easy to use choosing pre-made settings scheme or customized based on your setup. Following are the features of this plugin:
An unbreakable firewall against almost any attack
Notification of any potential bad behavior with full details of the attacker
Works with multi-site
Always up-to-date automatically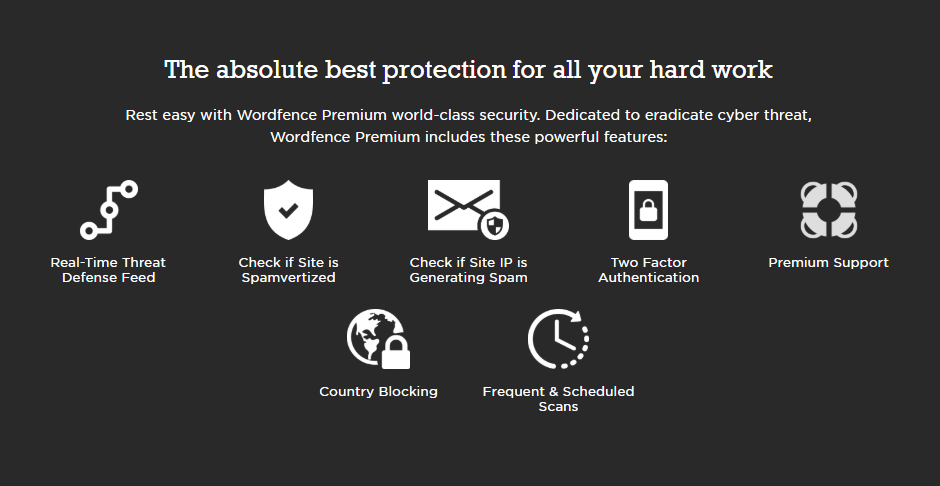 Wordfence is one of the best WordPress security scan plugins that's available for both free and premium usages.
It includes a built-in super secure firewall and malware scanner that cleverly detects and blocks malicious traffic to protect your website. You'll get almost every feature that you need on it to keep your site 100% safe and secure.
Undoubtedly, the most comprehensive WordPress security solutions for every WordPress developer and website owner. Following are the greatest features of the Wordfence security plugin:
An ultimate website firewall and malware scanner
Real-time firewall rule and malware signature updates
Real-time IP Blacklist
Protection from brutal force attacks by limiting login attempts
Monitoring visits and hack attempts to live traffic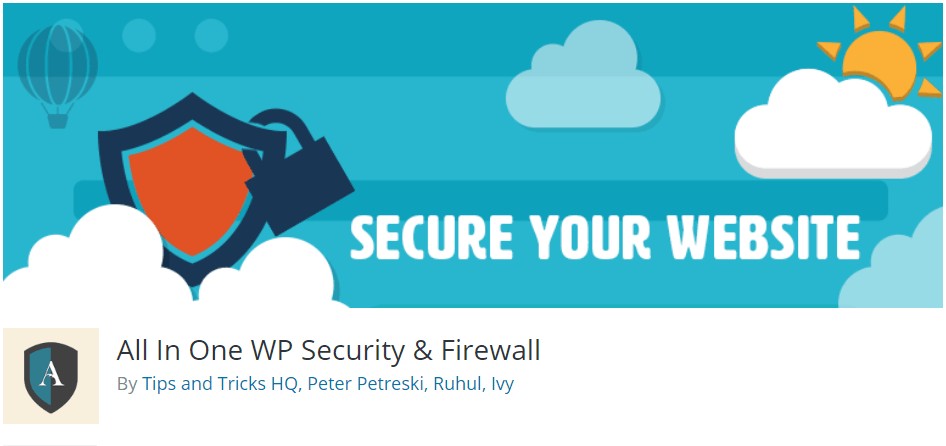 All in one is another best WordPress security plugin for WordPress websites. It will take your website's overall security to a whole new level using its different security and firewall features.
It's perfectly designed and written by experts based on the latest recommended WordPress security practices and techniques. They make it easy to use and understand.
Easy to use and 100% free
Three different security rules, "basic," "intermediate," and "advanced."
Security for user accounts, user login, user registration, database & file system
Blacklist and firewall functionality
Who is lookup, security scanner, comment spam security and more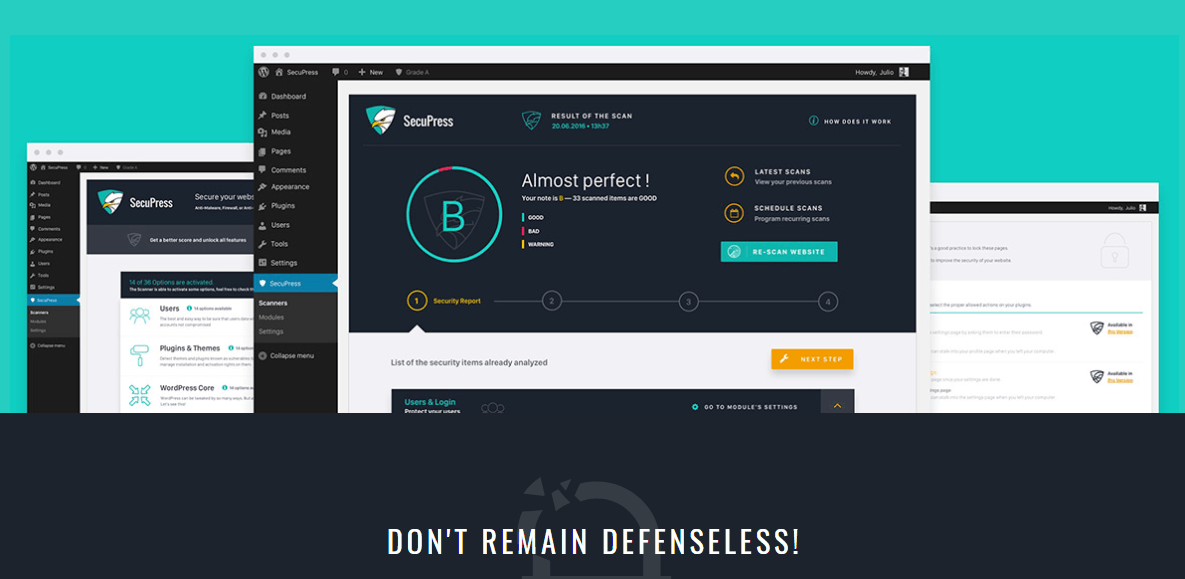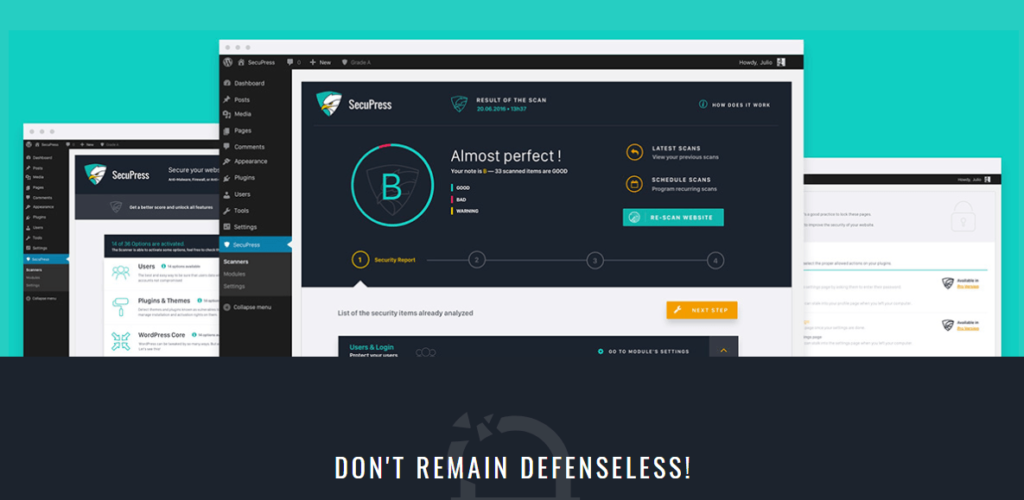 SecuPress is the best WordPress security scanner with a dedicated security scanner that will give you a crystal clear grade and report based on the scan.
So, you can know what exactly needs to be fixed to make your website fully safe and secure. Besides that, it also has more powerful additional features that let you apply different types of security settings and optimization for the best result. Available as both free and pro version. Following are the five stunning features:
Full security audit
Powerful website firewall and malware scan
Sensitive data protection
Prevention against Anti-Brute-Force login
Scheduled security tasks, scanner, backup, and malware scan
BulletProof Security a fantastic security solution for the WordPress website. However, it's not user-friendly, but it does the job perfectly using its unique settings and features. It has the anti-exploit guard, online Base64 decoder, cURL scans, scheduled crowns, folder locking, and much more.
It has both a free and premium version, so you can try out the free version at first before getting the pro. Here are the features of BulletProof WordPress security plugin:
Strong login security and monitoring
MScan malware scanner
Anti-spam and anti-hacking tools
Hidden plugins folder, and more
Our last pick is VaultPress – a real-time backup and security scanning WordPress plugin designed and built by the WordPress team Automatic itself.
This plugin makes sure your website is always protected against hackers, malware, host outages, and accidental damage.
The best part of VaultPress is that it lets you back up every element of your website, including post, media file, comments, revision, and dashboard settings.
Less pricey than most other premium WordPress security plugins
Clean and easy to understand dashboard
Real-time and manual backups
Brute force attack protection and uptime monitoring
Priority support from WordPress experts
Who needs this particular security plugin
Many people are using WordPress for their dream website, but not each of them is well conscious about the fact of security of their website.
However, some of them are thinking and looking for the solution to make completely secure their website, but they don't know what they need to do.
The above WordPress security plugins suggestion is especially for them, so they can easily protect their website against any malware, hacks, brute attacks.
In Conclusion
These are the best WordPress security plugins so far that you can choose from to defend the firewall of your WordPress website for sure.
So, choose now any of them, implement to your website, and go to sleep without having any tension about hacking, hijacking, or brute attacks. Your website is now completely safe, sound, and secure!
You will love the following articles: