Having forms on a website is very important because they let you do everything from accepting simple messages from your visitors to setting up detailed appointment booking forms, accepting payment for your services, and more.
Without Forms, you can't build a successful online business, blog, or website.
However, there are more obstacles you need overcome to grow your business online. So, if you're looking for the best and easiest way to add forms to your WordPress site, then the choice should be Ninja Forms – best drag and drop forms builder.
However, there are several great forms builder plugins available out there like Gravity Forms, WPForms, Contact Form 7, etc. But, comparing with others, Ninja Forms is the easiest way to add different types of forms to your WordPress site including a simple contact form, Quote Request Form, Event Registration Form, etc.
[rs_text_block color="note" headline=""]Disclaimer: RainaStudio is an affiliate for one or more products listed following. We may receive a commission for purchases made through these links.[/rs_text_block]
In this article, I'm going to tell you about Ninja Forms and how to get started with it.
Ninja Forms – The Best WordPress Forms Builder
Ninja Forms is a very powerful form builder plugin and the core plugin is free. But, comes with a variety of paid add-ons that help to add conditional logic, email marketing integrations, payment gateways, and tons of other helpful features to boost your online business.

If you simply want to add a contact form to your WordPress site, the free version of Ninja Forms is more than capable. Even, it's able to do a lot more, and may well meet all your online form requirements.
Another benefit of the free version of Ninja Forms is that you can test the user experience before you buy.

Bellow some of the fantastic features of Ninja Forms –
Unlimited forms with unlimited fields
Required fields
Email notifications for new form submissions
Custom input masks to correct pesky improper formatting
Anti-spam options that are in your face (CAPTCHA) or behind-the-scenes (honeypots)
View form submissions right in your dashboard
AJAX form submissions for reload-less submissions
As we can see, the free version has everything you need for basic forms. You can use it as free as long you want unless you need more advanced features like conditional logic, payment gateways, mailing list integrations, plus more…then you'll need to explore into the premium add-ons.
Having said that, now let's get started with Ninja Forms.
Getting Started with Ninja Forms
First of all, you need to install and activate Ninja Forms on your WordPress site. It's very easy to install a plugin.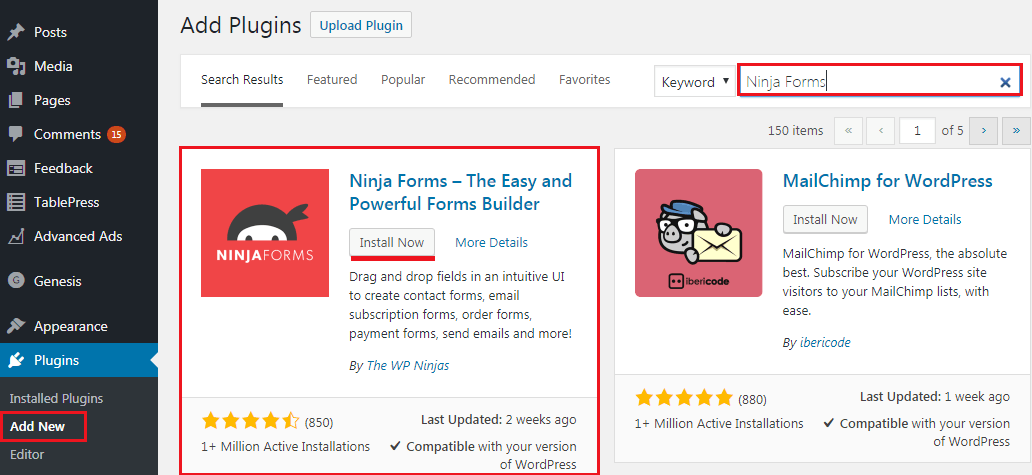 So, for this go Plugins » Add New and search for the plugin into the search bar. Then, simply install and activate.
Once it activated you can see the button 'Ninja Forms' on your dashboard (left side).
So, click on it and you'll be taken to the Ninja Forms dashboard, where you can see a pre-build simple contact form with shortcode. If you copy and paste the shortcode into any page, you can see a simple contact form (very familiar).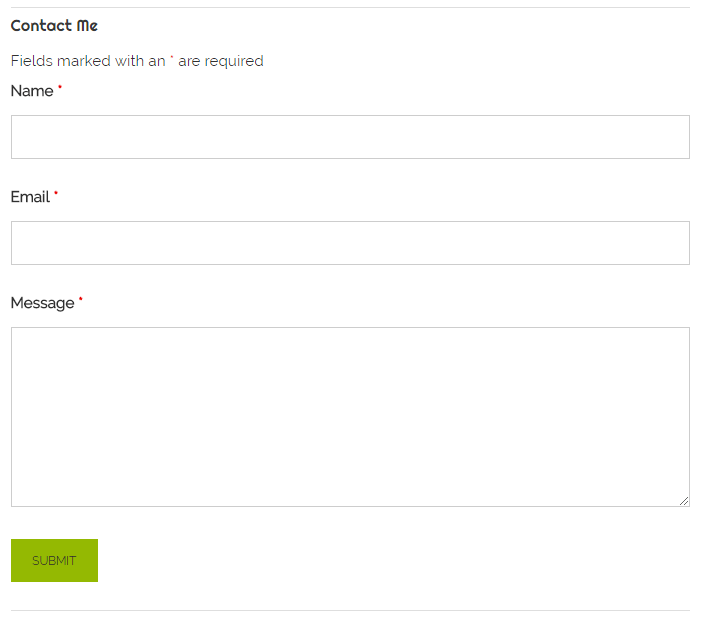 However, you can use this simple one but there are more inside the Ninja Forms. It's amazing to create a custom one.
So, let's hit the Add New button to create your form. Now, click the button.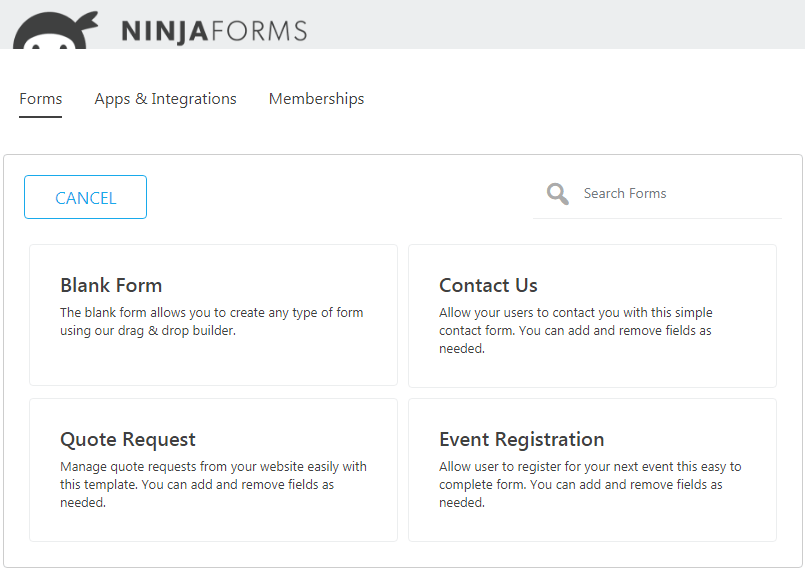 You'll see there are three pre-build form templates for you and the option to create your custom forms easily. So, let's have a quick look at the pre-build forms before creating a custom one by yourself.
Pre-build Forms Templates
The pre-build forms templates are a contact us form (I've told about that above), Quote Request Form, and Event Registration Form. You can easily customize these forms templates as your demand.
Quote Request Form
Using the Quote Request form template, you should have no trouble adding a quote request form to your WordPress website. You can use this template as a starting point for your own custom forms.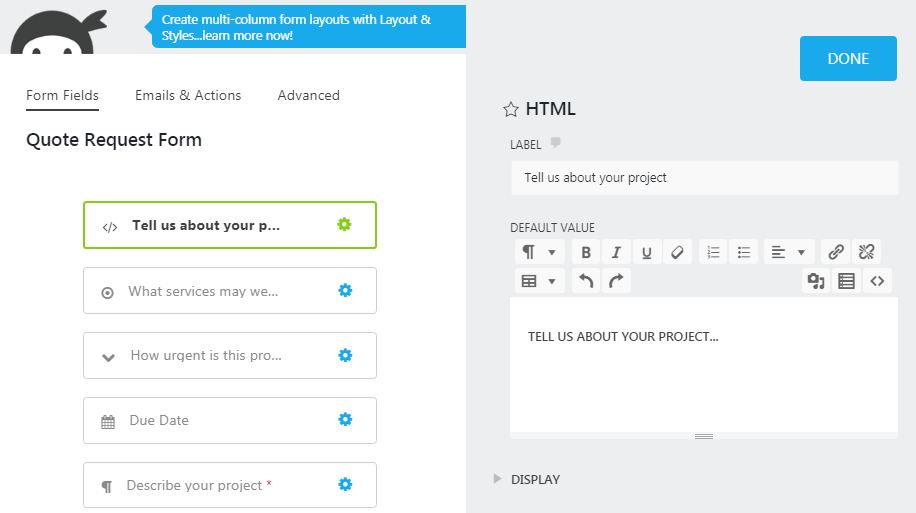 This Quote Request template will help you collect all the information you need from prospective clients and customers.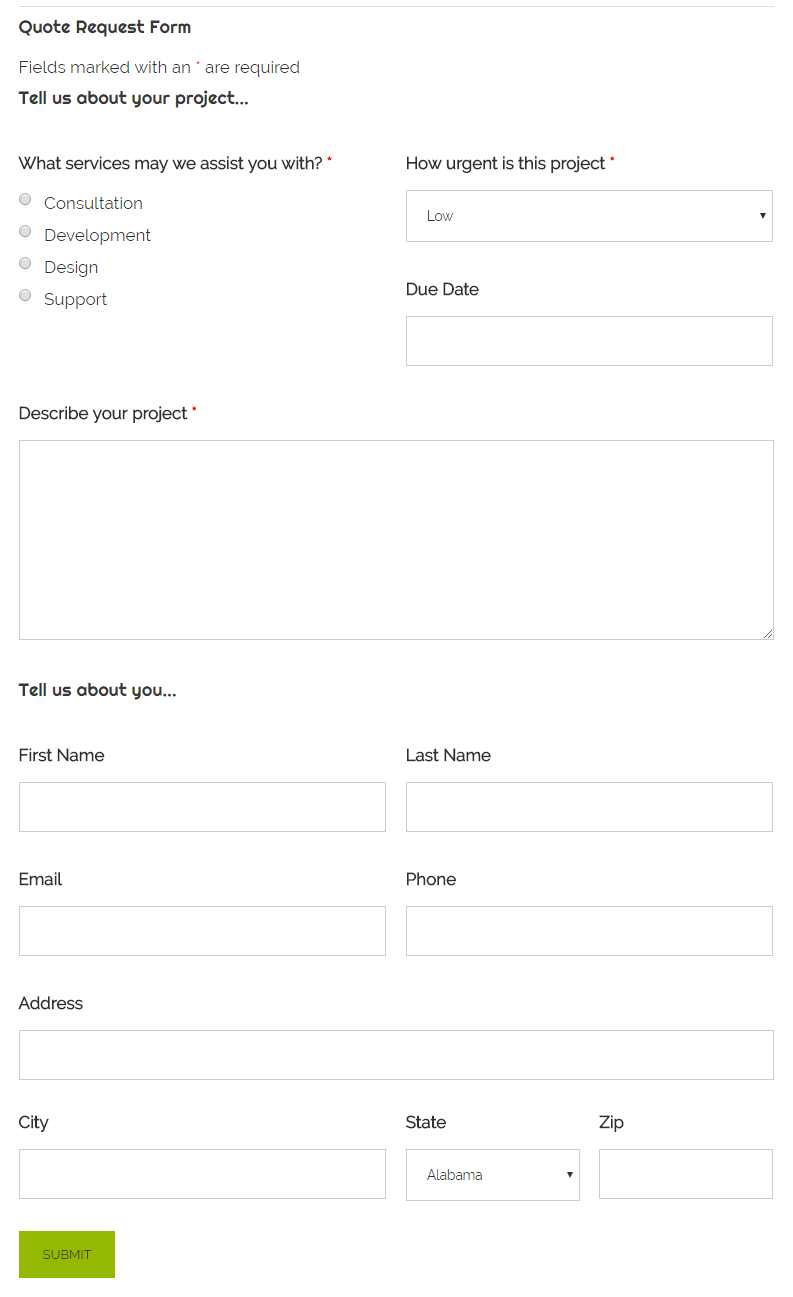 All the important form fields are available to it and it's really a great job of Ninja Forms team.
Event Registration Form
The last and final prebuild Ninja Forms (Free) template is an Even Registration Form that gives you a quick and easy way to add an event registration form to your WordPress website.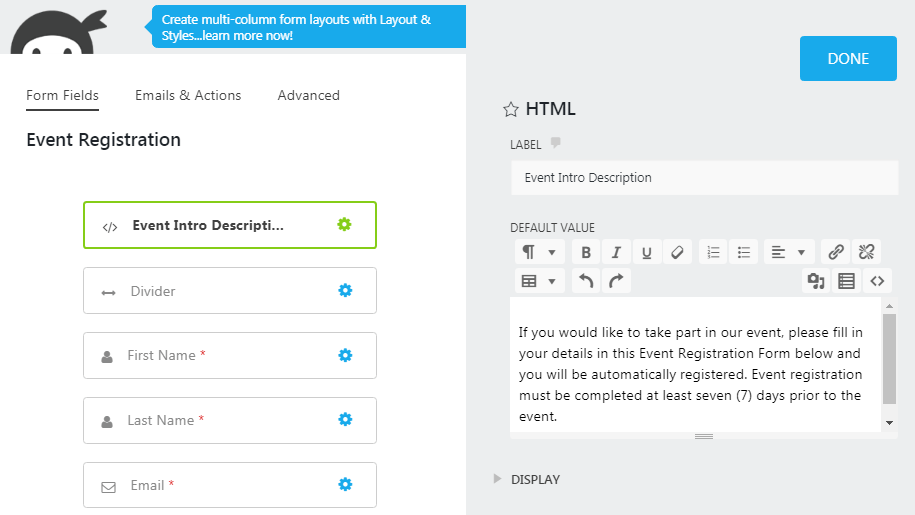 Like other Forms templates, this one can also be edited through the builder and is another great example of what the free version of Ninja Forms can do.
If you'd like to collect payments from your visitors as part of event registration through this form, you'll need to purchase one of the Ninja Forms payment-related premium add-ons.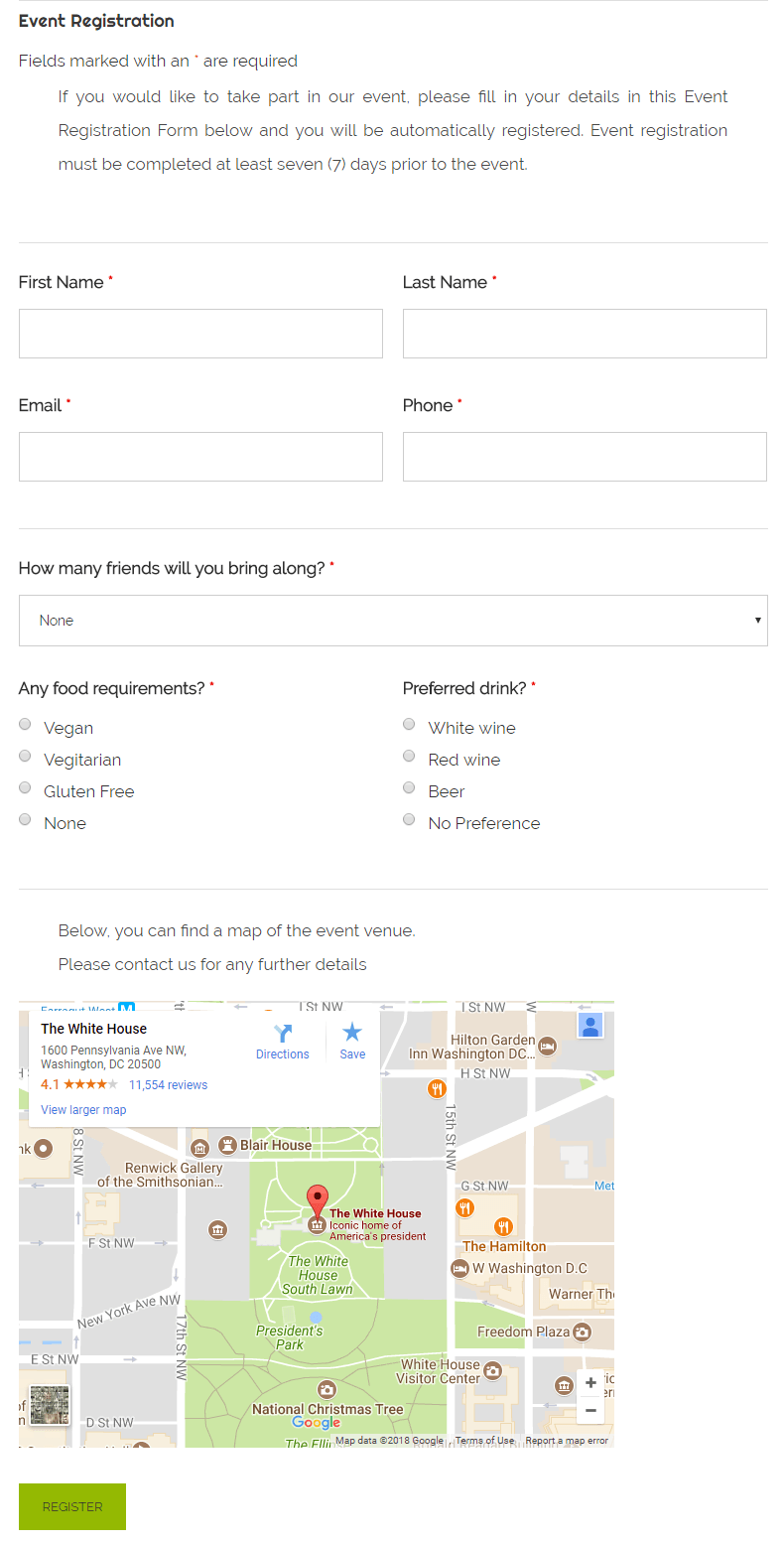 Now, let's create a custom form using Ninja Forms from scratch.
Creating A Custom Forms Using Ninja Forms Fields
For creating a custom form using Ninja Forms at first, click add new from Ninja Forms dashboard, then select blank form.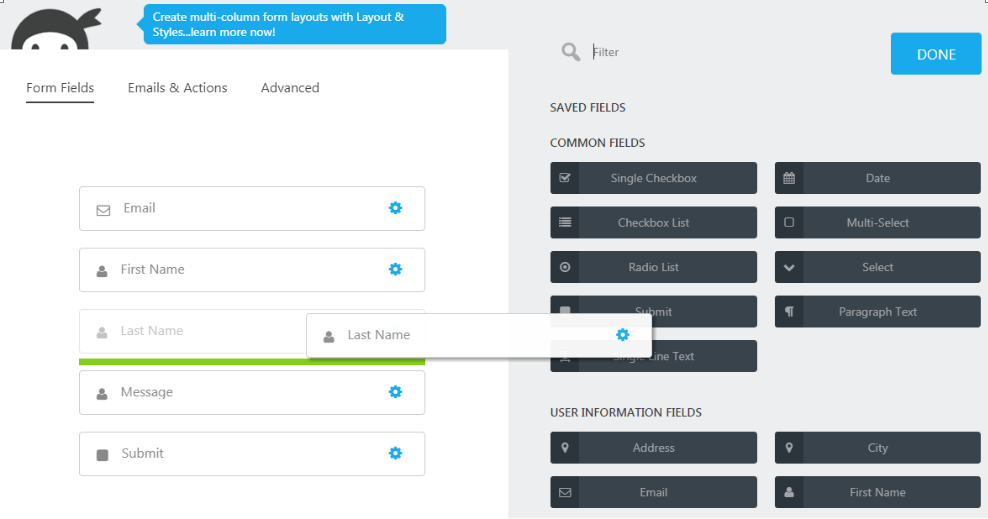 Now, you just need to click that (+) button, then all the potential form fields pop up. You can see, Ninja Forms divides them by use so that you can quickly find what you're looking for. So, to add any field, just drag it over to where you want it to be ordered.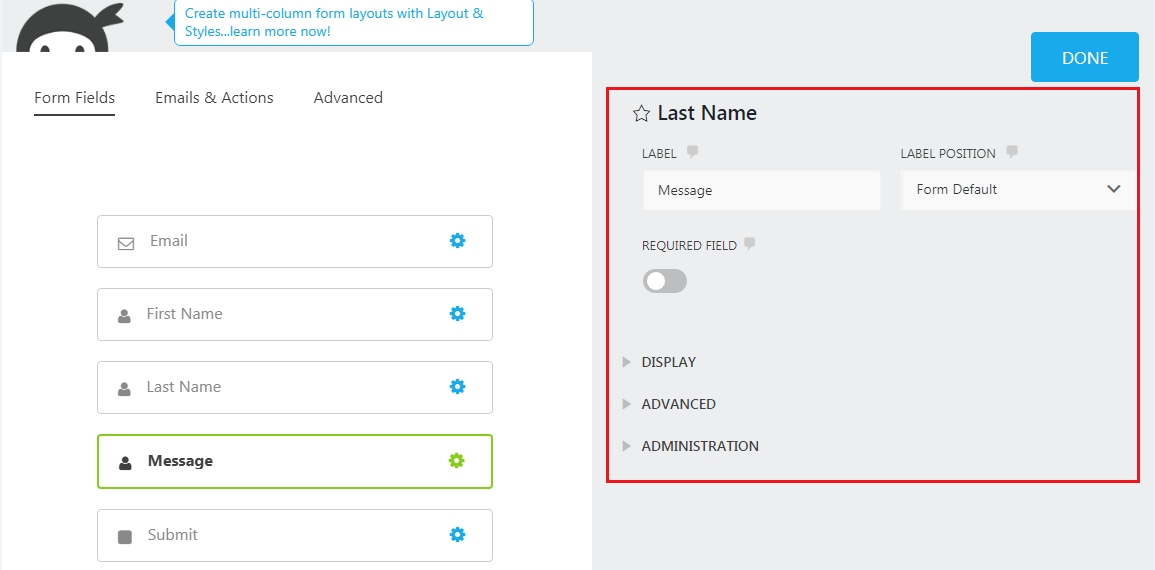 You can add as many fields as you want. And, to configure a field on Ninja Forms builder, all you need to do is click on the Gear Icon. After that, you can get the option – set up labels, required status, and more.
So, this way you can easily create a custom form for your WordPress site using Ninja Forms Builder.
Configuring Your Form Email Notification Settings
Once, your form creation is complete using your chosen fields and customization, then you need to configure the Email notifications settings.
This is why the Emails & Actions tab is there. You can configure things like:
Whether or not to save form submissions to your database
Form success messages
Email confirmations (to the submitter) and notifications (to yourself).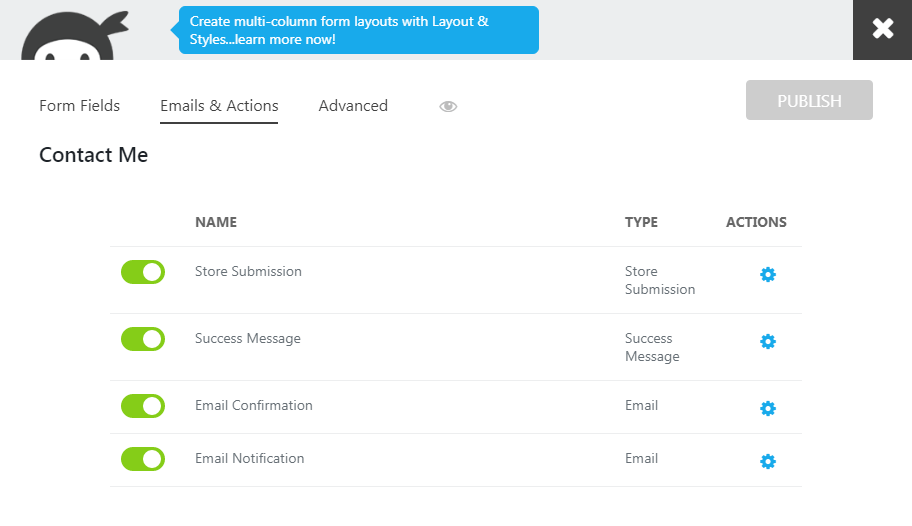 As an example, clicking on the Gear Icon for email notifications opens up a window where you can customize the notification email, including using merge tags to dynamically insert data.
It's very easy to configure any settings because Ninja Forms includes helpful tools to let you quickly insert the correct merge tag, where some other plugins make you do it manually.
Advanced Form Setups
The next tab of your custom form is Advanced, from where you can set up default display settings, restrictions, and calculations.
The Restrictions options let you do two helpful things:
Restrict the form to logged-in users,
Limit the number of form submissions.
As well as, The Calculations tab is really helpful if you're creating a form where users enter numeric values (for example – a pricing form).
Using this, you can run backend calculations on multiple form fields and then display the results on your front-end forms as users enter data. Even, you can use these to calculate an order total for variable pricing, or anything else your heart desires.
And, also you can nest calculations to create even more complicated formulas.
As you can see, it's very easy to create a custom form using Ninja Forms Fields because everything is there that you might need. So, once you're done, click Publish and insert your form wherever you'd like via shortcode.
Handling Form Submission
Ninja Forms will automatically send form submissions to the email address associated with your WordPress website's admin user account. That means you don't have to enter any contact details to get started with Ninja Forms.
Although, you can also choose to have form submissions delivered to other email addresses, or simply have a copy of the submission sent to users who have completed a form.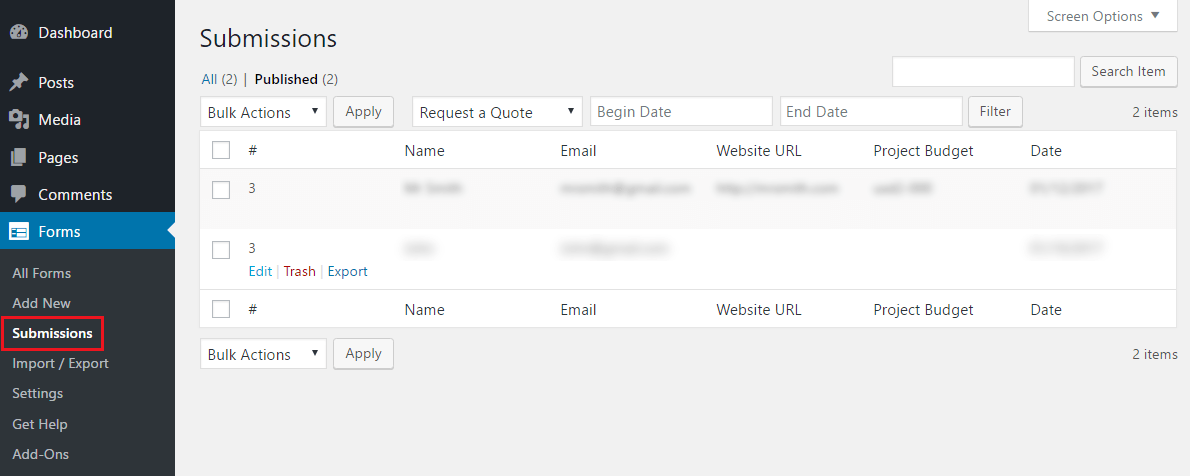 The plugin will also store form submissions in your WordPress database, and you can access them from your dashboard area.
This is really a useful feature of Ninja Forms plugin (free version) that isn't available with all free WordPress forms plugins.
In case, Emails can get lost or deleted, this is why having a central location where form submissions can be accessed can help you find and recover any missed communications.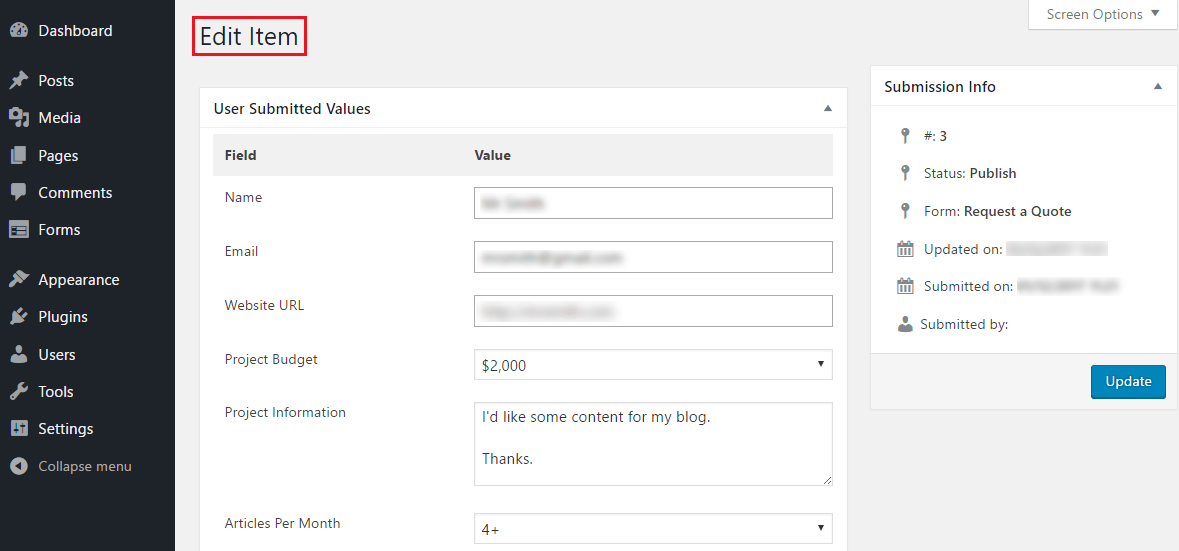 As well as, you can review the form submissions from the Submissions section of the Ninja Forms area on your WordPress Dashboard.
This plugin also gives you the ability to filter the submissions by different forms, which makes it easier to find the submissions you're looking for.

Ninja Forms also lets you export the submissions in CSV format. Opening multiple form submissions in a spreadsheet app such as Excel, you can easily analyze data from surveys and others forms you've created with Ninja Forms builder.
Ninja Forms Premium Addons
Ninja Forms has a ton of premium add-ons that make it flexible to any kind of user (Pro or a Newbie). Using the addons you can easily add conditional logic, email marketing integrations, payment gateways, and much more.
Add-ons price most range from $18 to $49 each, although you can also snag some bundles. There are 33 options to choose from, which means it'll be easy to get matched with your choice. So let's have a look at some of them:
Layout and Styles Addon
This addon gives you more control over the appearance of your forms and, ideal for anyone without any web designing knowledge like, CSS skills; or those who are looking for a way to create custom forms faster without the pain of long manual. You can get the Styles addon individually for $40, or as part of the Builder Pro pack for $99.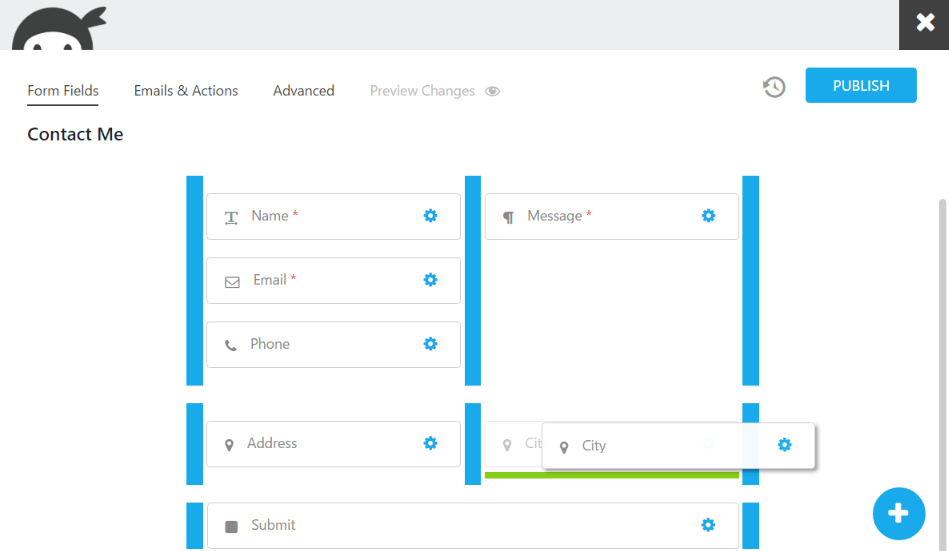 It'll also make you able creating multi-column forms and resizing the form fields and, customize the colors and other appearance-related settings of your forms through the drag-and-drop user interface.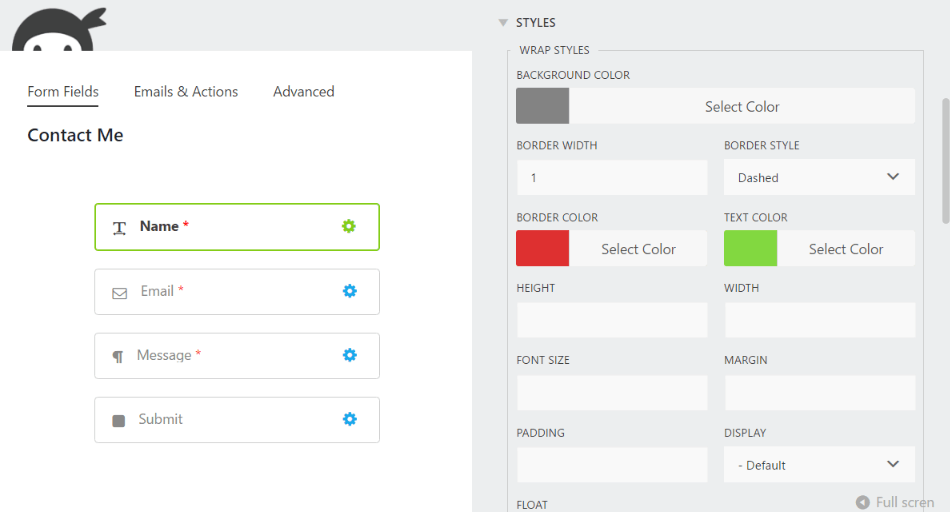 As well as, you'll also be able to create default custom styles for all the forms and fields on your website along with the ability to export and import your preferences between websites (when you have more than one).
Conditional Logic Addon
For $49 you can get the Conditional Logic addon, which enables you to show or hide fields and list items based on user input to other form fields.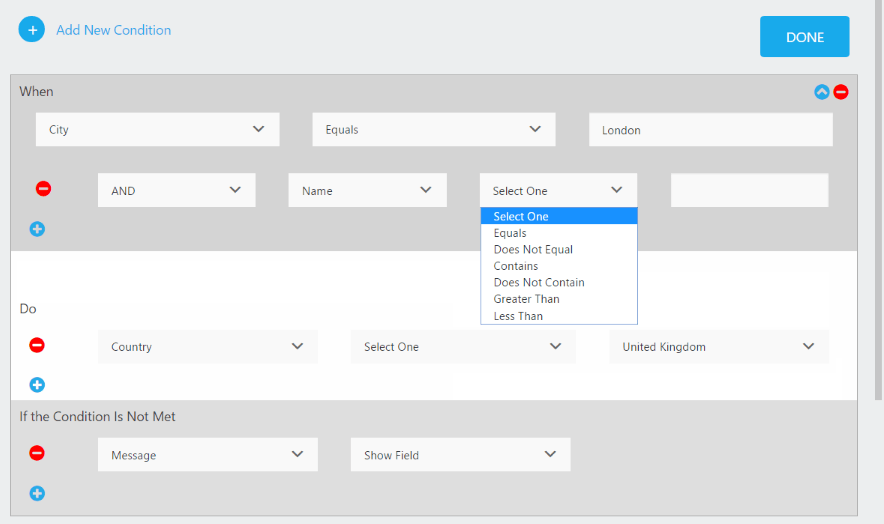 As well as, you can also use conditional logic to send out specific notifications based on user input and change field values too. It gives you the ability to create interactive forms that adapt to user inputs.
Here below some other Ninja premium add-ons –
Email marketing integrations – connect to MailChimp, Campaign Monitor, Constant Contact, AWeber, and Emma.
Payment gateways – integrate with PayPal or Stripe.
Zapier and Webhooks – unlocks the power of Zapier and all of its integrations.
Multi-part Forms – to split forms into multiple pages.
Front-end posting – lets you sync forms up to posts, pages, or custom post types to allow front-end submissions.
Webmerge – to populate PDF, Word, Excel and PowerPoint documents with form data.
There are more, you can view all of them here.
Ninja Forms – Pricing Options
Here below are the available ways to upgrade from the free version of Ninja Forms and get access to the premium features:
Buy add-ons individually, with prices ranging from $29 to $129 each (for use on 20 sites).
Upgrade to the Personal plan for $99 (Builder Pro addons pack for use on one site).
Or, upgrade to the Professional plan for $199 (Builder Pro addons pack for use on 20 sites).
Upgrade to the Agency plan for $499 (all add-ons for use on unlimited sites).
All options include one year of access to updates and support, with a 50% discount on automatic renewals. Purchasing the Personal or Professional plans also gets you a 20% or 40% discount, respectively, on the price of purchasing additional add-ons.
You can view the full details of the Ninja Forms pricing plans here, including the details of the 14-day money back guarantee. There is no doubt about the capability of Ninja Forms builder to build any kind of great quality form for your WordPress site.
Wrap Up
Right now, Ninja Forms (free version) is already downloaded 7914709 times! And, with premium add-ons, it's the best drag and drops WordPress forms builder.
You can choose it as for free or any of the premium packages, you'll get a solid and powerful form builder to create your custom form the way you want. If you've already used Ninja Forms to your WordPress site then, let us know your thought. We'll be happy to hear you.
You will love the following articles: