An event calendar plugin can become the most necessary tool when it comes to showcasing and managing your live events.
And this kind of extension also helpful for scheduling webinars, seminars, bookings, meetings, and a lot more through your WordPress website.
An event calendar is a tool for making things easier for you. You can easily update and inform your visitors about upcoming events, bookings, or meetings, etc.
And, using a WordPress event calendar plugin, you can nicely showcase the relevant information of your specific event in one place clearly and plainly on your website.
Best WordPress Event Calendar Plugins
There is an extensive range of Event Calendar plugins. You can find several different plugins, both free, and premium developed and designed just for your easy use on your WordPress sites.
But, needless to say, that it's a hassle for you to choose the best one.
So, under this circumstance, understanding your needs and your precious time and effort, here below, we've curated the collection of best WordPress Event Calendar plugin just for you!

The Event Tickets Manager For WooCommerce is an extension that lets merchants sell tickets to offline events using an eCommerce store.

With the help of this WooCommerce extension, you can add event-based products to your store and create event management and ticketing website.
Event Tickets Manager For WooCommerce is integrated with Google Maps that allows you to show the live location of your venue to your customers.
Also, the customers can download their tickets as PDF for offline use. Lastly, merchants can show the number of available seats with the help of the WooCommerce inventory management system.
---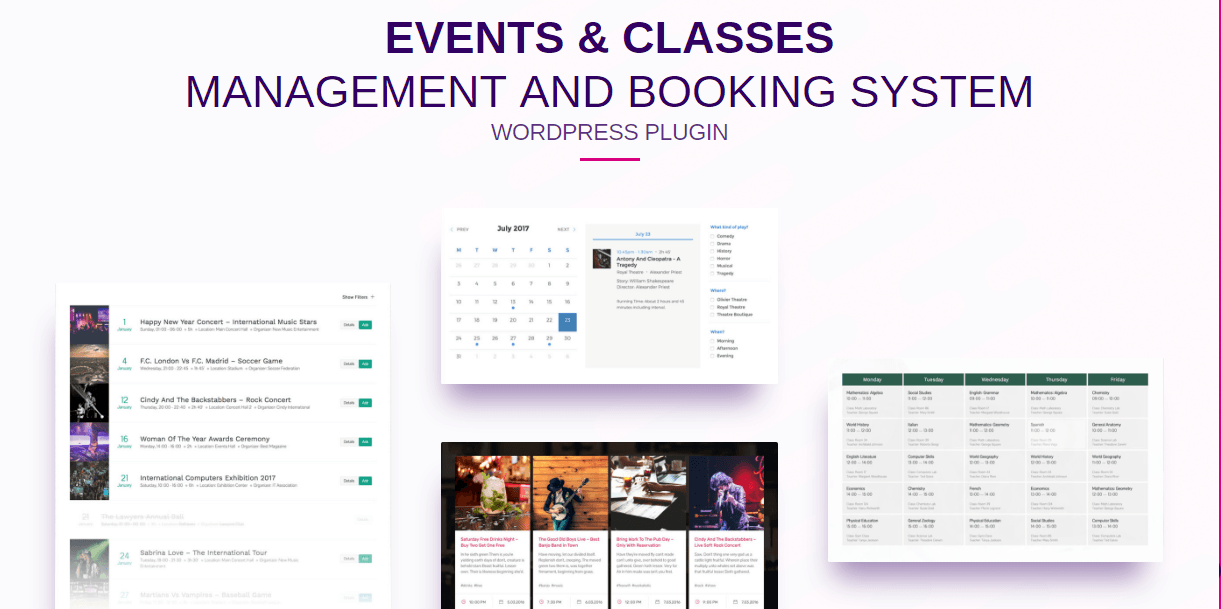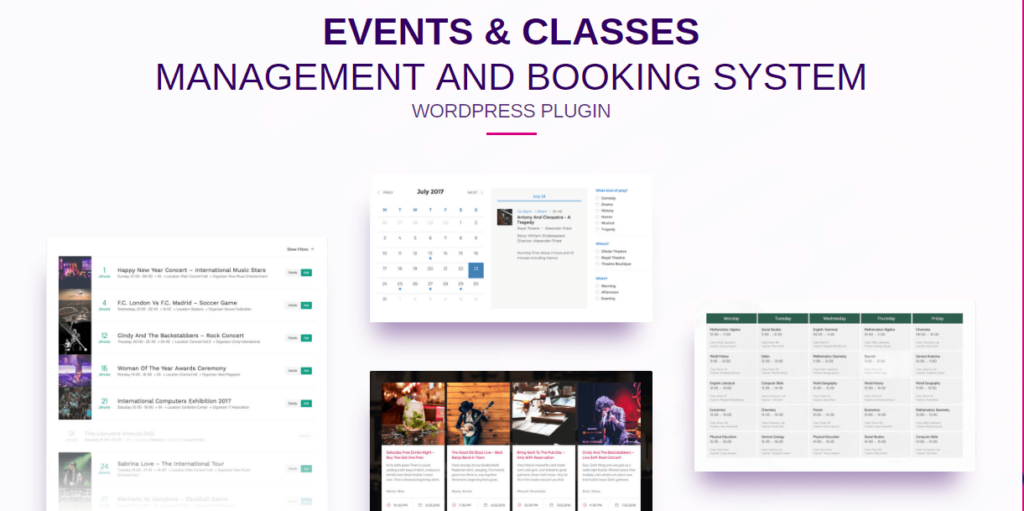 A powerful, simple, and versatile WordPress event list plugin to elegantly display of your classes, bookings, or events. Offers 12 schedule styles, each comes with different design, features, and styles to help ensure your online calendar has the right look for your website.
Compatible with 99% of WordPress themes, and so easy to set everything up with a few clicks with basic WordPress knowledge.
An excellent solution for different businesses, including Dance Studio, Fitness or Sports Center, Conferences, Seminars, Festivals, Sports Arenas, and Exhibition.
---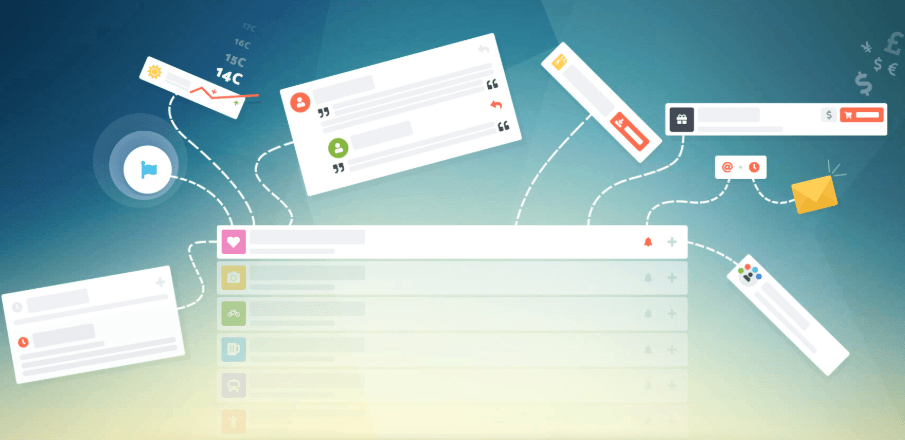 An all in one Event Calendar WordPress plugin that lets you include all kind of information about your event to show your viewers like introduction section with detailed information including a photo gallery, guest list, event schedule, location map with directions, merchandise, weather forecast, and even comment section!
As well as, comes with the integration of WooCommerce, WPML, FontAwesome Fonts, WP Bakery Page Builder (Formerly Visual Composer), and Google Fonts.
---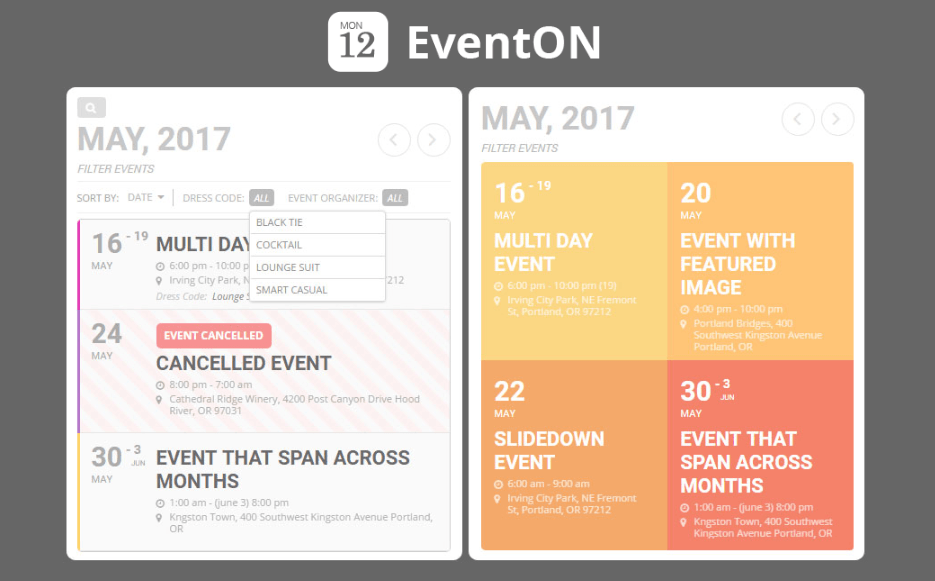 A fantastic WordPress plugin, packed with tons of great features, possibilities, and customization that help you set up a calendar for almost all of your needs. Being minimalist and clean-designed,  it's suitable for all kinds of websites.
It comes with an interactive shortcode generator that makes it super easy to customize. And we can set up every calendar option like yearly/monthly/weekly/daily, and by days of a week or a custom repeat schedule.
---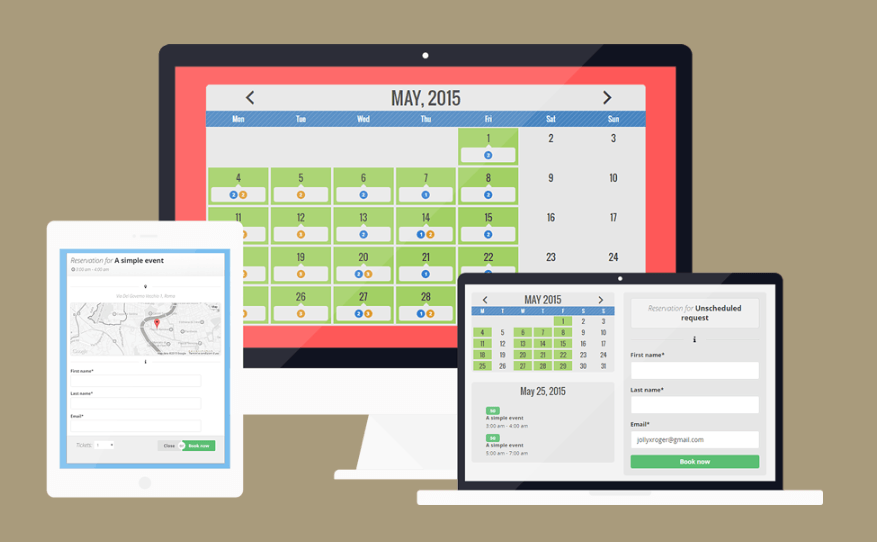 This plugin is actually a fully WPML compatible WordPress booking plugin for appointments and services with a very peculiar feature. You can use it on Google Calendar to easily plan availability and manage reservations.
All the Calendar events slots are easily customizable. And, once you'll book the slots, then the relative Google Calendar event will be updated! A complete booking and reservation solution for your business without any issue at all.
---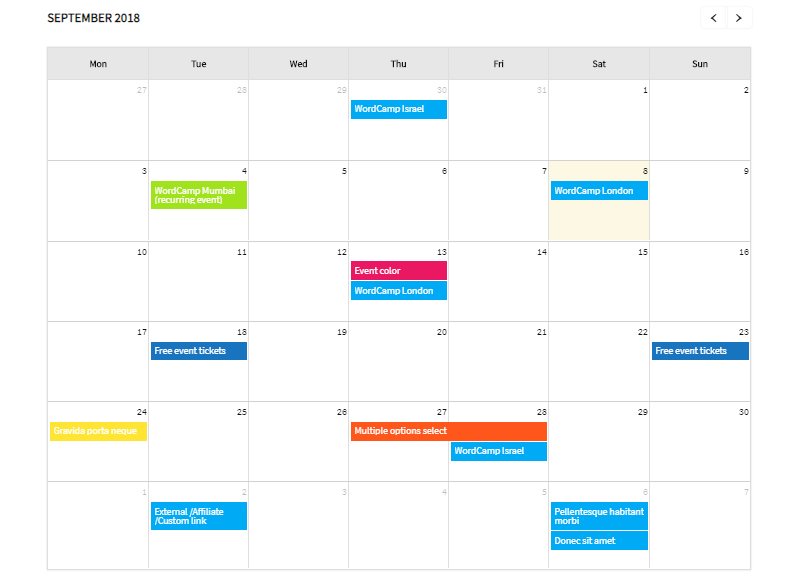 If you're looking for a calendar and event blocking plugin for your WordPress WooCommerce website, WooEvents is the one to choose. This plugin works with popular Woocommerce add-ons like discount, deposit, product add-on.
It helps you create events, sale events, events calendar, events scheduler events map, and manage all your online activities easily. And, allows your visitors to register an account, submit and booking for upcoming events.
---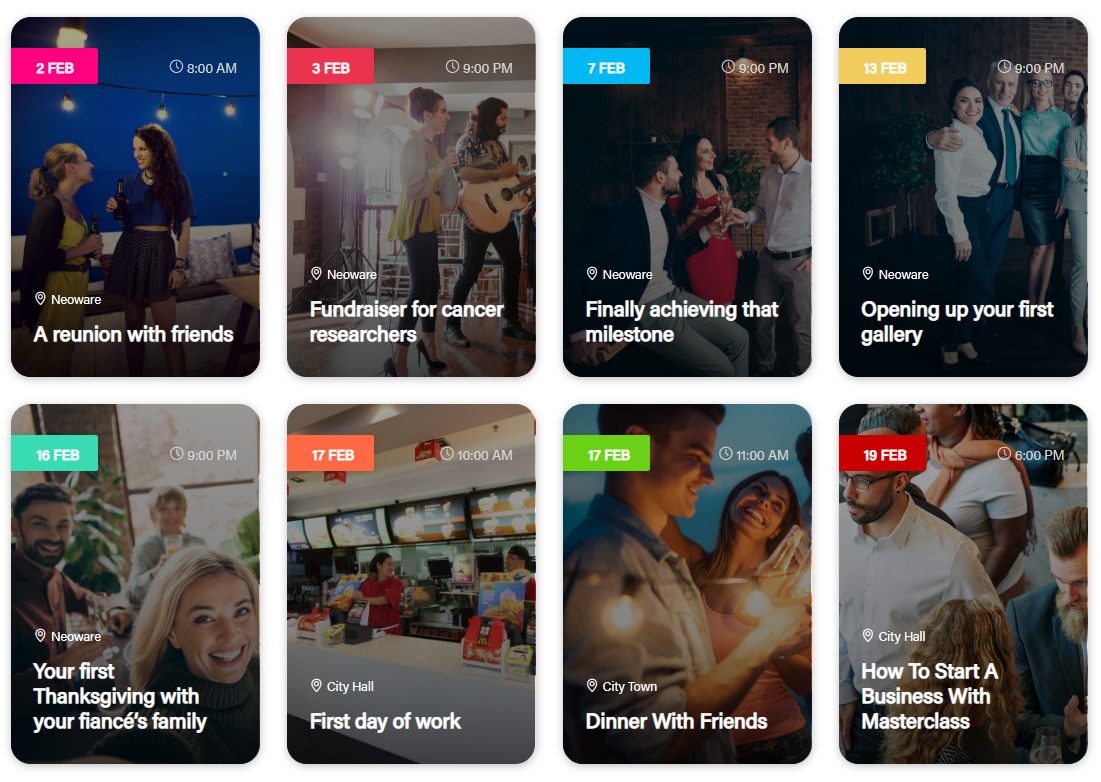 Do you run an event management business website? I bet, you are looking for a complete solution that helps grow without hassle. Modern event calendar such a robust plugin that has been designed in a way to manage everything easily.
This plugin offers 50+ event display layouts, easy to use user interface, various payment gateways, booking & ticketing features and last but not least, it has detailed setting & options.
Manage events on your website single handedly with Modern Events Calendar WordPress plugin.
---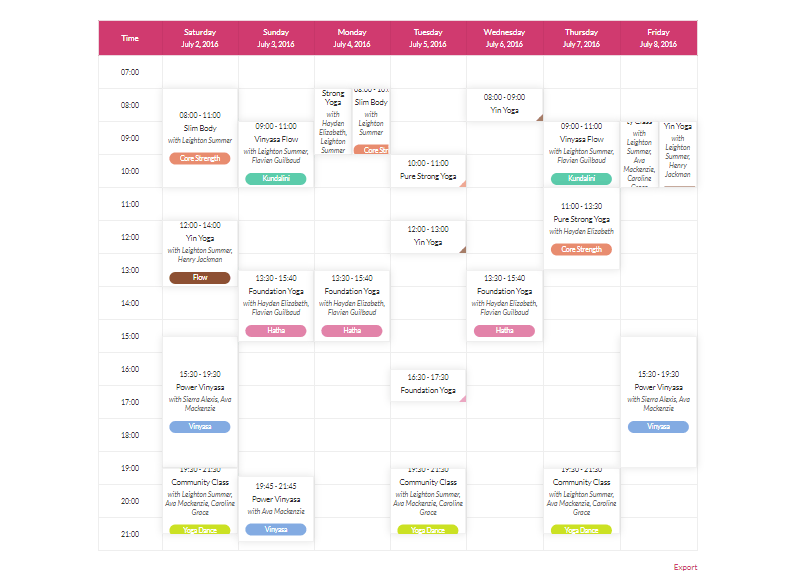 A super flexible WordPress schedule planner plugin for your website, 100% responsive and totally mobile friendly. Especially perfect for fitness events, yoga, any kind of event calendars and so on.
It helps you easily create a timetable with custom data just in a few minutes. It is packed with tons of fantastic features, including Visual Composer compatibility, Flat Styling, Event Navigation, Event Filters, Event Pop-ups, and much more.
---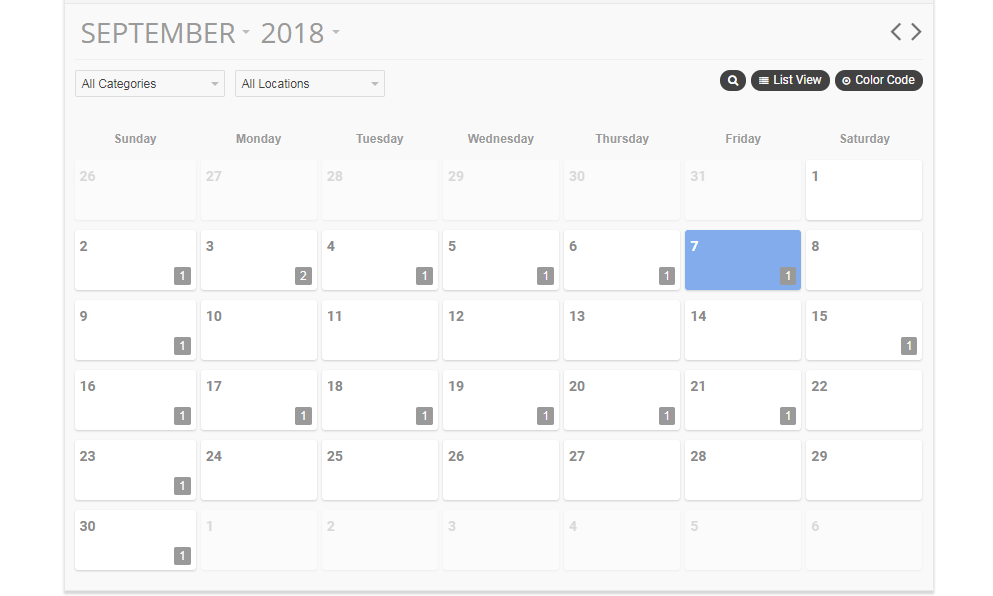 The Pro Event Calendar is a superb WordPress plugin to manage any types of events online. It helps you add a professional and sleek designed calendar to your posts or pages.
Super easy to manage events, 100% responsive, you can even use it inside a widget. As well as, also allows users to subscribe to a specific calendar event to get the newsletter (MailChimp Supported).
With tons of options to personalize your calendar, WordPress Pro Event is undoubtedly one of the best Events plugins.
---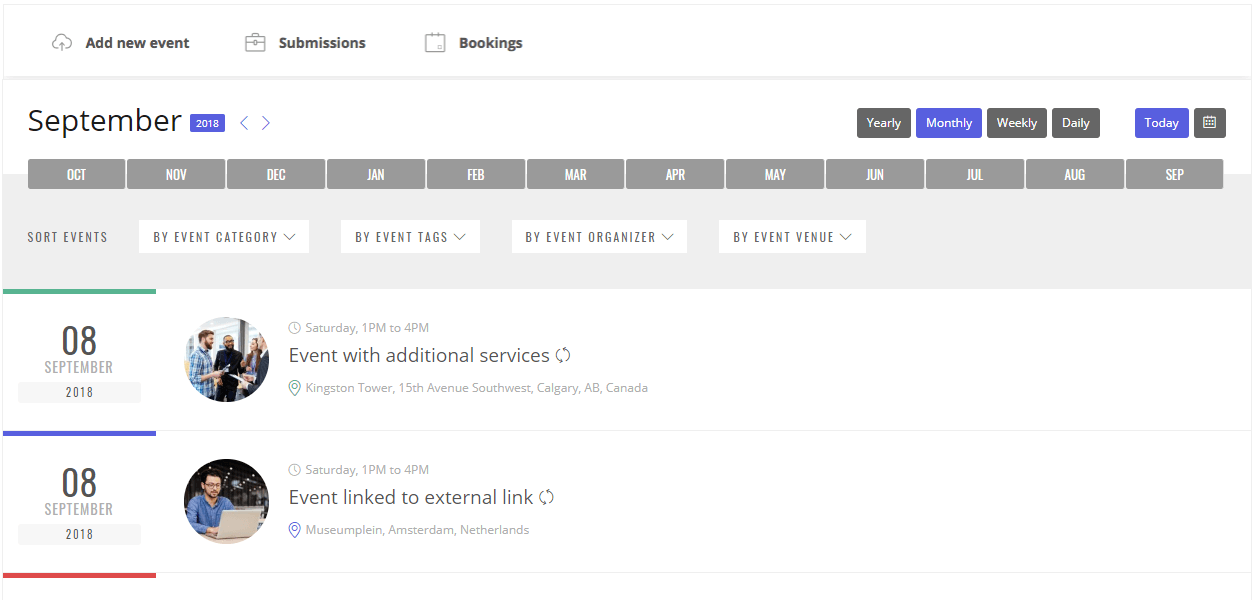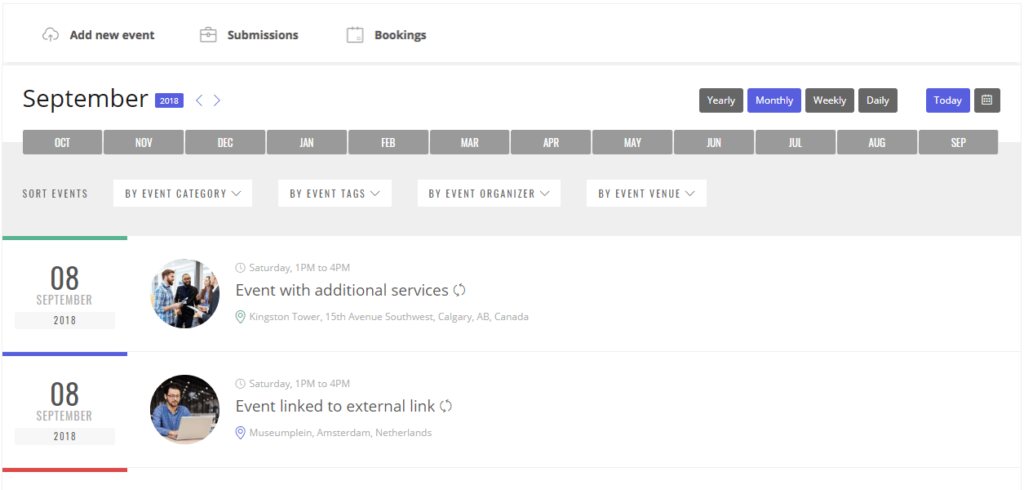 All in one WordPress Events Manager plugin with all possible essential and premium features including full-width calender with multiple-step, multiple list style, multiple grid views, upcoming event countdown, event bookings, recurring event, sell additional services, and much more.
It allows you to create your custom form for your users to submit events. Users can use an exclusive custom build drag-drop form builder. Now, also compatible with WooCommerce!
---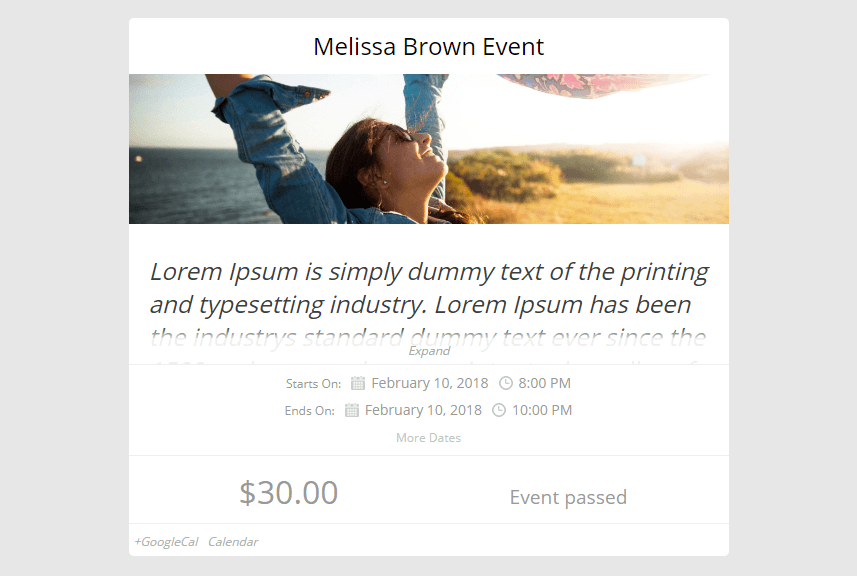 Another Event booking WP plugin made with customization in mind. Easy to set up and show your events with six different shortcodes including event box, event card, event button,
Event List, Calendar, and by Day Calendar. Comes with PayPal Integration & "Pay at the door" mode.
Moreover, it supports custom gateways. As well as have the option to select a different currency for each event — a complete solution for you when PayPal Integration is your preferred option.
---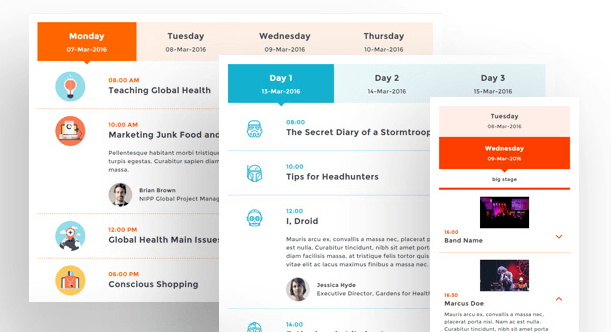 A completely responsive and multi-purpose event scheduler plugin for WordPress that nicely adapts its layout to all mobile devices. It's such an effective plugin, will help you to create impressive schedules for your events of any kind in minutes.
Suitable for festivals, conferences, conventions, meetings, training sessions, exhibitions, etc. It comes with beautiful and clean layouts that could be easily customized.
Who these plugins are for
Being a WordPress developer, I have worked on many client projects for boot camp, fitness, spa, and course selling websites. Many of those sites required event management and booking system. So, I had to integrate plugins to manage everything from the WordPress dashboard.
Based on the UI, features, and functionality, we choose all the above event calendar plugins. So, you are a fitness trainer, course creator, a blogger, or a keynote speaker or whatever your profession is don't matter.
If you need something picky and want a sustainable event management plugin for your WordPress website, go with any of the above.
In Conclusion
Overall, these are the best WordPress Event Calendar plugin to get your upcoming events in front of your viewers with different layouts, designs, and options.
With a large number of plugins, you may have confusion in choosing the best one for your website to manage the event.
Hope, in this hand-picked list, you will find the most suitable WordPress event calendar plugin. So, get your pick, and it would be easy for you to manage, update, and show all kinds of your events. Do not face any hassle when you got the right plugin in your bucket.
You will love the following articles: